by
James Burkinshaw
In a year that has taken away so many loved and admired figures (from Prince and David Bowie to Victoria Wood and Alan Rickman) long before their time, it is a positive pleasure to celebrate the longevity of perhaps the last star from Hollywood's 'Golden Era' - Kirk Douglas - who turned 100 today.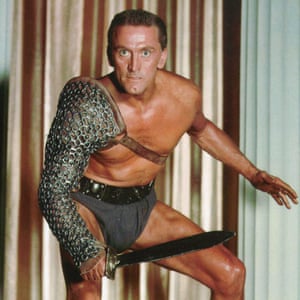 In many ways it seems appropriate that Douglas is the last survivor: with his distinctive square jaw, he always looked as if he had been carved out of granite, most iconically in the epic
Spartacus
. His role as the heroic leader of a (historically factual) slave revolt remains the one for which he is most famous.
However, he was more than just an action hero. Some of his finest performances were in film noir classics such as
Out of the Past
and
Ace in the Hole
, playing morally ambiguous characters or even outright villains. He was also an accomplished stage actor, starring as McMurphy in the first Broadway production of
One Flew Over the Cuckoo's Nest
Even
Spartacus
was more than just a typical action movie. The script was written by Dalton Trumbo, a screenwriter 'blacklisted' by Hollywood's film studios throughout the 1950s after being identified as a communist by Senator McCarthy's 'Un-American Activities' Committee. It was Douglas who insisted that Trumbo received a screen credit, a courageous move at the time - and one that helped break the power of the blacklist as it became the most successful movie in Universal Studios' history.
Spartacus
retains its visual power over half a century later (worth viewing on the big-screen, if you ever get the opportunity), with its vivid technicolour and epic battle scenes. However, unlike so many other action movies, it is underpinned by an intelligent script and some powerful and subtle acting, not least by Douglas himself as Spartacus. Its portrayal of noble slaves rising up against corrupt and arrogant Romans was seen as a critique of America's own history of slavery and continuing racial oppression (the film was released in 1960, before the Civil Rights Act or Voting Rights Act). In fact the film was picketed by right-wing protesters such as the so-called League of Human Decency. Furthermore, it included a particularly subversive section (known as the "oysters and snails" scene) between Laurence Olivier and Tony Curtis suggesting that sexuality was a matter of choice rather than a moral issue; it was considered so shocking at the time that the studio insisted it was cut from the original (it was only restored when the film was re-mastered and re-released in the 1990s).
Kirk Douglas and Robert Mitchum
Ace in the Hole
(1951) was one of director Billy Wilder's darkest and most scathing satires, starring Douglas as a cynical reporter, Chuck Tatum, who exploits a family's tragedy for his own gain. Its portrayal of the manipulation of a gullible public by a cynical media was condemned as "grotesque" and "vicious" by reviewers at the time and it was a commercial failure (rare for both Wilder and Douglas). However, today it is seen as one of Wilder's finest works and one of Douglas' best performances - as an ambitious, wise-cracking, self-loathing alcoholic, simultaneously magnetic and repellent.
Only four years before, when Douglas was still a second-string actor rather than a leading star, he gave what, for me, is one of his best performances as corrupt businessman Whit Sterling, in
Out of the Past
(1947). Although his character has relatively little screen time, Douglas manages to invest him with charm, menace and moral complexity that pervades the film. He more than holds his own in his scenes with the legendary Robert Mitchum (who gives an equally accomplished performance as world-weary private eye, Jeff Bailey). With memorable performances from both Douglas and Mitchum and their co-stars, Jane Greer and Rhonda Fleming (as two of the most fatal
femmes fatales
of all time)
Out of the Past
remains one of the great
film noirs -
and the movie that helped producers realise Douglas had star potential.
He gave many other memorable performances over the years, including a noble First World War French colonel in
Paths of Glory
(1957), a charismatic but destructive film producer in
The Bad and the Beautiful
(1951) and a doomed cowboy in the under-rated
Lonely Are the Brave
(1962). His rather scene-chewing portrayal of tortured artist Vincent Van Gogh in
Lust for Life
(1957) led to an Oscar nomination. He also gave an enjoyably swashbuckling performance as Einar in
The Vikings (
1958) - a movie which certainly didn't garner any awards but remains a guilty pleasure.
He remains our last link to the Golden Age of Hollywood - and, perhaps, to the Golden Age of America itself.