by
Hattie Hammans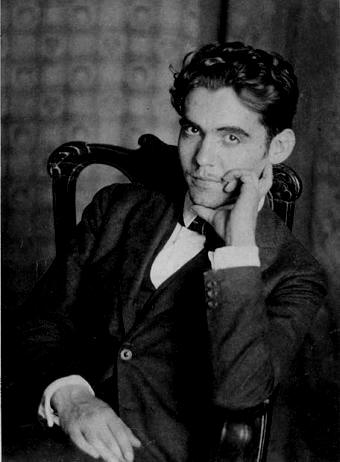 Federico Garcia Lorca (1898-1936)
Federico García Lorca nació el 5 de junio de 1886 en un pueblecito por el Noroeste de Granada, en Andalucía. Durante su adolescencia, so
ñ
aba con ser un músico profesional.
El fue influenciado por
los más grandes compositores de la época romántica, como Debussy, Chopin y Beethoven. Además de sus estudios musicales, la tradición de la música clásica le inspiró mucho.
Se puede verlo en su primera colección de poesía; poemas llamados
«
Canción Menor
»
,
«
Elegía» y «Balada
»
. Esta primera colección fue publicada en el a
ñ
o 1921.
Lorca se quedó todo su vida cercano de la naturaleza; a pesar de mudarse a Madrid y entonces a Nueva York, no podía huir de su cultura ni del paisaje andaluz que influiría todo su obra, como se puede ver en esta estrofa:
«
Verde que te quiero verde,/verde viento, verdes ramas
»
de
Romance Sonámbulo.
Lorca se hizo amigos de otros artistas espa
ñ
oles famosos, como Dalí y Buñuel en la muy progresiva '
Residencia de Estudiantes
' cuando se matriculó en la Universidad en Madrid, en 1919.
Su primera obra de teatro, que exploró el amor entre una cucaracha y una mariposa, fue un fracaso y solo duró cinco representaciones. Pese a esto, escribió muchas obras de teatro en su vida, incluso su tres grandes tragedias;
«
Bodas de Sangre
»
,
«
Yerma» y
«
La Casa de Bernarda Alba
»
.
Lorca es uno de los dramaturgos m
á
s importantes solo de España sino del mundo hisp
á
nico.
Romancero Gitano, publicado en 1928, logró ser una de sus colecciones más conocidas. Se
apoya fuertemente en
las formas de las canciones populares espa
ñ
olas, los poemas evocan una tierra de violencia, donde se
«
quebraron opacas lunas
»
. El lenguaje de Lorca es, al mismo tiempo, delicado y brutal. Recoge verdaderamente la mezcla delirante del mito y la verdad, la
superstici
ón y la realidad de las antiguas canciones populares de
Españ
a.
Sin embargo, Lorca cayó en un estado depresivo después del rechazo por Salvador Dalí, objeto de su amor no correspondido. Y por todo la pasión pura, los poemas de Romanceros Gitanos habrían invitado crítica de ser indocta; Federico era casi suicida.
Su padre organizó un viaje a Nueva York, para matricularle en la sesión veraniega a la Universidad de Columbia. Aprender inglés era su supuesto objetivo, aunque nunca hizo sus exámenes finales de inglés; pero logró escribir sus poemas de la mayor calidad durante esa estancia en la ciudad.
García Lorca, comenta que no había visto tanto pobreza o decadencia como la que vio en Nueva York
ni siquiera en Andaluc
ía. También fue testigo del 'Wall Street Crash' de 1929, y escribió acerca de ello en
«
Danza De La Muert
e
»
,
«
Qué
ola de fango y luci
é
rnagas sobre Nueva York!
»
Se dice que durante ese tiempo Lorca que era una presencia exótica.
«
Electriza a la gente
»
comentó Andres Segovia tras de escuchando Lorca tocando el piano en un concierto.
También, era verdad que Lorca podía vivir su homosexual en Nueva York con más facilidad que en la España tan católica y tradicional.
Walt Whitman (1819 a 1892) se volvió una influencia seria para Lorca cuando un nuevo conocido empezó traducir 'Songs of Ourselves' al español.
«
Oda a Walt Whitman» es un poema de respeto profundo. El poeta joven comenzó a emplear largos oraciones y el verso libre de Whitman en sus propias obras. Otra influencia fuerte durante este tiempo fue el muy prominente poeta Ingles; T.S Eliot.
«
The Waste Land
»
captura la imaginación de Lorca y el estilo
desarticulado
y fragmentado empezó a entrar su poesía de Poeta en Nueva York, mientras sus obras se
iban hacienda cada vez m
á
s surrealistas.
En 1930, Lorca volvió a España y siguió su primer estilo más clásico.
«
Sonetos Del Amor Oscuro
»
escribió en los últimos a
ñ
os de su vida.
Publicado p
ó
stumamente, estos poemas tratan sobre un amor intenso y no correspondido el de Rafael Rodr
íguez Rapún.
Federico García Lorca murió en
circunstancias
misteriosos en 1936;
que fue asesinado por los oficiales de la derecho española, al mes siguiente de comenzar la Guerra Civil española. Se culpa a los fascistas debido a su apoyo a la izquierda, y el hecho de que se corr
í
a la voz de que era homosexual. Han hecho muchas tentativas para descubrir su cuerpo; desafortunadamente,sin resultado.
Mucha gente considera a Lorca el má
s destacado
poeta y dramaturgo má
s destacado
del siglo XX.
Su vida corta ha sido estudiada extensamente junto con su escritura prol
í
fica. Indudablemente, sus obras ha dejado una marca indelible en la Españ
a contemporá
nea, a pesas de haber estado prohibido durante la dictadura de Franco.
(English translation, below)
Federico Garc

í

a Lorca was born on the 5th of June 1898, in a small town west of Granada in Andalusia. Throughout his teenage years, Lorca dreamed of a career in music, and was heavily influenced by Beethoven, Chopin and Debussy. The classical-romantic tradition was a huge artistic inspiration for Lorca as a young writer, and in his first collection, works appeared named 'Canci

ó

n Menor', 'Eleg

í

a' and 'Balada', (Minor Song', 'Elegy' and 'Ballad'). This first book of poems was published in 1921.
Lorca remained close to nature throughout his life, and despite moving across to Madrid and then to New York as a young adult, he was unable to escape the Andalusian culture and countryside that was to significantly influence his oeuvre.
Verde que te quiero verde,/verde viento, verdes ramas… (Green how I want you green, green wind, green branches…) From Romance Son

á

mbulo (Dreamwalker Ballad).
Lorca famously befriended other artists of Spain including Dal

í

and Bu

ñ

el at the Residencia de Estudiantes, a progressive University in Madrid, which he joined in 1919. His first play, exploring the love between a cockroach and a butterfly was laughed off stage after 4 performances. Despite this, he wrote many plays in his lifetime including his three great tragedies '

Bodas de sangre

'

(1933),

'

Yerma

' (1934), and '

La Casa de Bernarda Alba

'

(1936),

becoming famous as a playwright within Spain.
Romancero Gitano (Gypsy Ballads), published in 1928, turned out to be one of his best known books of poetry. Reflecting on the forms of the Spanish Ballad, the poems of this collection evoke a land of terror, below 'quebraron opacas lunas' (smashed opaque moons). Lorca's language is at the same delicate and brutal, truly taking from the ancient Spanish ballads a delirious mix of myth and truth, superstition and reality.
Lorca fell into an emotional turmoil after Salvador Dal

í

, the object of his unrequited love, rejected him. And for all their raw passion, his poems of 'Gypsy Ballad' had invited criticism for being 'untutored'; Federico was almost suicidal.
His father paid for a trip to New York, to attend Colombia University's summer session, so that he might learn English. He never learnt English, or even sat his final exams, but he produced some of his finest work during his stay in the city. Garc

í

a Lorca, of rural Andalusia, had never seen poverty or decay how he saw it in New York. Also a witness to the Wall Street Crash of 1929, of which he wrote in 'Danza De La Muerte' : '

¡

Qu

é

ola de fango y luci

érnagas sobre Nueva York!' (What a wave of sludge and glowworms over New York)
It was said of Lorca at this time that he was an exotic presence; 'He electrified people' said Andres Segovia on hearing him playing the piano. It was also true Lorca could move more freely as a gay man in modern New York, than in traditional, catholic southern Spain.
Walt Whitman (1819-92) became a serious influence on Federico as an acquaintance he met in New York began translating 'Song of Myself' into Spanish. Lorca's 'Oda a Walt Whitman' is a song of deep respect; the young poet then took on Whitman's long sentenced, free verse form in his own writing. Another strong influence at this time was an prolific English poet; T.S Eliot. 'The Waste Land' captured Federico's attention, and the disjointed, fragmented style of this monumental work crept into Poeta in Nueva York, as his work became more surrealist.
In 1930, Lorca returned to Spain and resumed his earlier, more classical style. 'Sonetas Del Amor Oscuro' were written in the last years of Lorca's short life. Published posthumously, these poems were about an intense, and again unrequited love for

Rafael Rodríguez Rapún

.
Federico Garc

í

a Lorca died mysteriously in 1936, killed by right wing officials one month into the Spanish civil war. He was targeted for leftwing sympathies and his rumoured homosexuality. Franco brushed off the circumstances of Lorca's death with

"

The writer died while mixing with the rebels, these are natural accidents of war,

"

(The Guardian, 23 April 2015). Several attempts have been made to find his grave, but none so far have been successful.
Considered the foremost poet of the 20th century, Garc

í

a Lorca's short life has been extensively studied alongside his prolific literary output. His work has undoubtedly left a cultural mark on contemporary Spain, despite being banned during Franco's oppressive 36 years in power.