by
Ellie Williams-Brown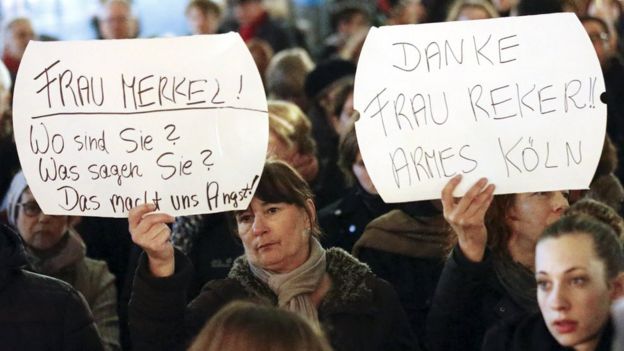 (source: BBC)
On New Year's Eve crowds in Cologne gathered to celebrate the dawn of 2016. But the event was to make headlines for all the wrong reasons.
Groups of men working in gangs systematically sexually assaulted and robbed women. These attacks have sparked outrage in Germany. And some are pointing the finger at the recent flood of refugees after claims the attackers were of Arab/North African origin.
Others have used this as an excuse to criticise Angela Merkel's open-door refugee policy. Police in Cologne say 553 criminal complaints have been filed by women in Cologne, and 45% of those are for sexual assault.
In the light of these events Merkel is under pressure to re-evaluate Germany's 'open door' immigration policy, and at the very least to convince a sceptical German public that it works.
This is particularly important given the flak she took for backing a bail-out for Greece to ease the country out of its economic depression. In the wake of the attacks the political climate in Germany has already seen one change. Recent legislation has seen Germany tighten their rules on immigrants who commit crimes - which could see deportation and the loss of their refugee status.
Some right-wing commentators are throwing the blame onto the immigrants, a stance fuelled by fear and prejudice. Opponents of the open-door policy have accused immigrants of planning co-ordinated attacks on women when they are still settling themselves into their new lifestyle in Germany.
Others argue that, surely, having escaped Syria, the main focus of refugees would be to integrate themselves into society not to coordinate attacks on women, not only in Cologne, but in Hamburg. Many commentators in Germany are starting to believe that this could be a gang of professional pick-pockets who organised this attack to rob drunk/intoxicated women, with the sexual assault used merely as a means to distract them as they grabbed their valuables.
What is equally as shocking is the police's handling of the event. After initial reports of the crimes, the square was cleared but then the crowds were allowed back in - without any arrests being made.
The local community also has questions to answer. Many revellers apparently saw and heard the attacks but did not intervene.
Despite it being nearly a month after these events, police have still not found the men behind the crimes. For the sake of all in Germany those responsible need to be identified and brought to justice.