by
Cicely Podmore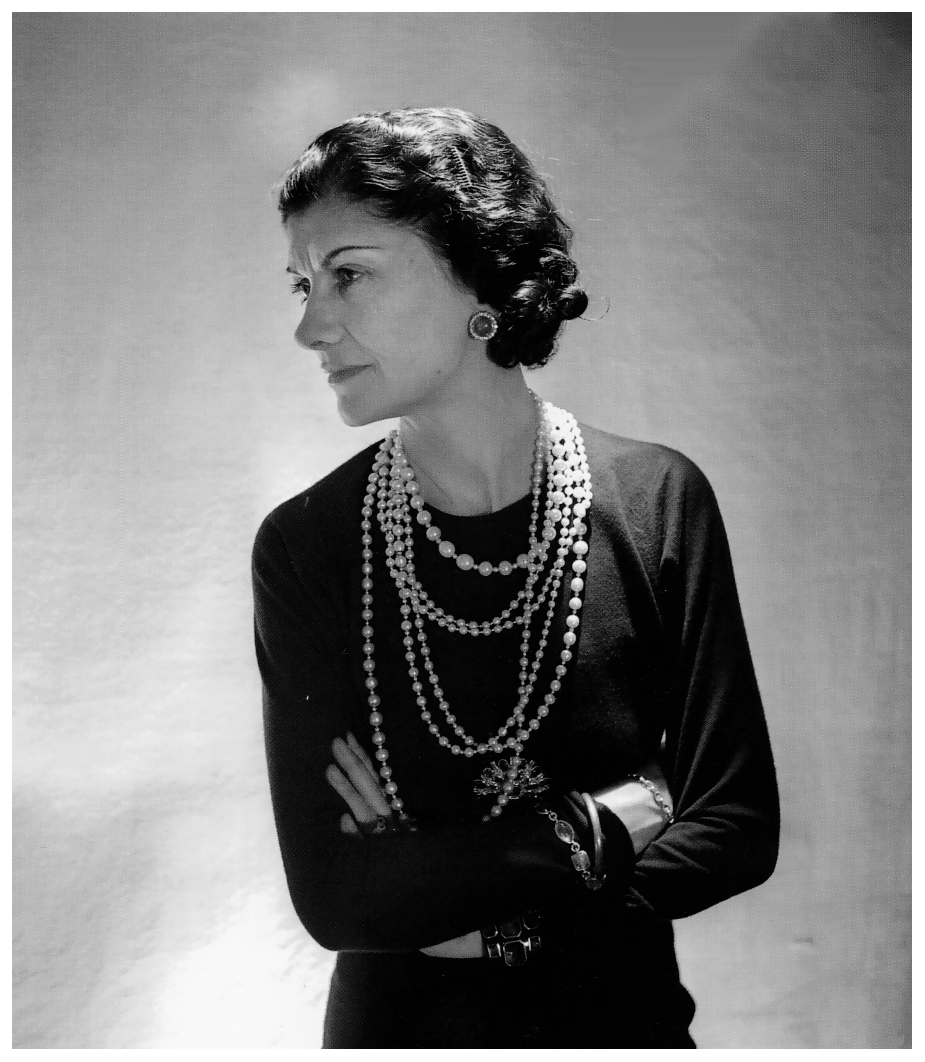 Coco Chanel
A long queue of anticipation slithered through a maze of tall grasses in front of the Saatchi gallery for the 'Mademoiselle Privé' exhibition. The celebration of Coco Chanel spanned the ground floor of the gallery with each room having been transformed into a facet of Chanel, the woman, or Chanel, the brand. Primarily, Chanel's Parisian Couturière on 31 rue Cambon was reinvented with an elegant sweeping staircase and tiled floor. Then, an animation played which depicted Chanel entering her famed office, the door titled 'Mademoiselle Privé.'
Coco Chanel was portrayed in this exhibition merely as a fashionista, the mother of elegant yet simple modern style. However, she was a complex women of extremely humble beginnings who, purely by her own enterprises, achieved world renown as the greatest designer to have ever lived and has been acknowledged as one of the 100 most influential people of the 20th century. The exhibition focussed solely on this glamorous life, thus, Gabrielle Bonheur Chanel, the girl born to a street vendor and an unmarried laundress (sharing one room with four siblings and her parents) was forgotten. So too was Chanel's cocaine addiction from which many muse that the name 'Coco' originated. Disputes about Chanel's potential Nazi sympathies and work as a spy were also neglected. 'My life didn't please me, so I created my life' wrote Chanel in one of her many famous quotes. Certainly, the inspirational woman who lived in high-class luxury was a complete metamorphosis from Gabrielle who was sent to a convent for the destitute; 'Coco' is arguably Chanel's finest creation.
By far, my favourite room was hung with great lengths of Chanel fabrics from floor to ceiling. To move through the room, you had to walk in among the clothes in a labyrinth of material. Another room saw Chanel's well known symbols embodied. There was a gigantic sheath of wheat and a robot constructed from lucky numbered dominos. Additionally, the corridors had been edged in black to mirror the iconic Chanel packaging.
Upstairs, the focus shifted slightly to modern-day Chanel and Karl Lagerfeld. A futuristic and highly theatrical room was dotted with steaming mechanical portals which opened to reveal great pools of liquid scented with No5, representing the perfume and its production. The loud hissing and dramatic lighting of the room contrasted with the quieter 1921 origins of Chanel's scent when perfumer, Ernest Beaux, combined 80 components into the signature bottle which still sells every 55 seconds and is renowned as the perfume of choice for people as notable as Marilyn Monroe ('I only wear Chanel No5 to bed.').
Additionally, there was an area where sheer black and gold gowns were displayed on illuminated Perspex figures. These were exquisitely intricate and appeared delicate and feminine by creation from fragile, wispy materials.
Karl Lagerfeld
The most impressive display exhibited several mannequins wearing the
Bijoux de Diamants High Jewellery
collection as designed by Coco Chanel. The security of the diamonds was formidable and the circuit of visitors were ordered to hug the walls to avoid any proximity to the centrepiece of bejewelled models. Photographs taken by Karl Lagerfeld were also shown, picturing celebrities adorned in this jewellery and Chanel clothing. The fashion company's contemporary relevance was highlighted by the famed women who were intimately pictured, including Cara Delivigne, Keira Knightley, Lily-Rose Depp and Rita Ora.
In a fantasy film where Karl Lagerfeld met with Coco Chanel (played by Geraldine Chaplin), the original designer was seen to berate Lagerfeld on his modern imprint on the brand. Nonetheless, Lagerfeld (in control of the fashion house since 1983) has had an extremely positive impact on the designs and is a highly respected and recognisable figure, renowned for his perpetually tied-back white hair, dark spectacled eyes and hands clad in black gloves. He has even been knitted into a range of miniature dolls. However, Coco Chanel has ensured that she will never be forgotten as she is immortalised in almost every aspect of the brand, especially the characteristically bold interlocking 'C's of its logo.