by James Burkinshaw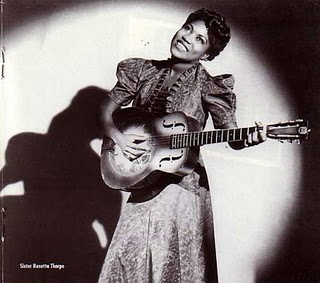 Born in Cotton Plant, Arkansas, a hundred years ago today, Sister Rosetta Tharpe was a prodigiously gifted singer and pioneering guitarist who deserves to be much better remembered than she is today. As singer-songwriter Joan Osborne notes, "
Listen to (Tharpe's) recordings and you can hear all the building blocks of rock and roll."
Rosetta Tharpe's distinctive singing style was shaped in her early childhood, listening to her mother, Katie Bell, singing old spirituals (they later recorded duets together). She was performing in public from the age of four. However, it was her family's move to Chicago in the 1920s that transformed her life and her music. Rosetta's dual attraction to the ecstatic religion of Chicago's Sanctified Church and the secular ecstasy of the blues guitar performed at clubs throughout the city forged her own, transcendent musical style. Performing in blues clubs, evangelical churches and at gospel shows, Sister Rosetta was bending notes in a manner more typical of a rock guitarist than a gospel singer twenty years before "pioneers" such as Chuck Berry (who, along with Elvis, Johnny Cash and Bob Dylan, fondly cited her influence on his own musical style).
Rosetta Tharpe was phenomenally popular in the 1930s and 1940s, but relatively few of her performances were captured on film. Two of the most memorable date from the 1960s (when she had already been performing for well over forty years). The first is from a Sunday morning TV show in which half of the choir look enraptured by and the other half disapproving of Sister Rosetta's virtuosic style - indeed, many gospel purists objected to the way in which she mixed sacred lyrics with a secular musical style; she was a "crossover artist" long before such a term existed.
Around the same time, someone at Britain's Granada Television (the producers of ITV's
Coronation Street)
had the inspired (if mildly deranged) idea of filming some of America's greatest gospel singers before a live audience on the platform of a disused railway station on the outskirts of Manchester. In the video below, Sister Rosetta arrives on the platform, like a true star, in a horse and carriage, before launching straight into a memorable performance of the gospel classic, 'Didn't It Rain?'. The song choice was presumably an ironic reference to the inhospitable Mancunian weather that obliged Sister Rosetta to perform in her overcoat, which makes the energy of her performance all the more impressive:
It mystifies me that, in comparison to some of her contemporaries, such as Mahalia Jackson, Rosetta Tharpe has faded into relative obscurity. I only came across her music in the 1980s - on an old cassette picked up from a record store bargain bin - and was immediately drawn to the sublime voice and blistering guitar style, distinctive even on a second-hand tape of pretty muddy quality. She was such an inventive and adaptive performer, as comfortable with jazz and blues as traditional gospel, equally at home in a Chicago church or Harlem's legendary Cotton Club, her passion, energy, charisma and humour shining through in every performance in defiance of the many tribulations that she faced during a relatively short life (she died aged 58); she deserves to be remembered more widely on the centenary of her birth.

Happy 100th birthday, Sister Rosetta!
There has been something of a revival of interest in her music within the last decade, beginning with Gayle Wald's biography of Rosetta Tharpe, 'Shout, Sister, Shout' in 2007. A few years ago, the BBC made an excellent documentary exploring her life and music. It is available (in four parts) on You Tube (see below):