by Zoe Dukoff-Gordon
Here are a few healthy snack ideas, very easy and keep really well!
· Healthy Pancakes
Ingredients:
Makes 12 pancakes
1 small sweet potato (200g)
1 mug brown rice flour (200g)
1 teaspoon ground cinnamon
Coconut oil, for greasing
Method:
1. Peel the sweet potato, discard the skin and chop the rest of the potato into small pieces.
2. Either steam or boil the sweet potato chunks for about 10 minutes, until they're really soft.
3. Then place them into a blender with the oat milk, flour, honey and cinnamon and blend for 30 seconds or so until the mix is totally smooth.
4. Place a non-stick frying pan on the stove and grease it with coconut oil, then allow it to get
5. really hot before placing about 2 tablespoons worth of batter in it.
6. Use a spoon to shape the batter into a circle and then allow it to cook for 2–3 minutes, until the top of it no longer looks like runny batter and is starting to firm. Flip the pancake over and allow it to cook on the other side.
7. Continue until you've used up all the batter.
· Healthy Banana Bread Recipe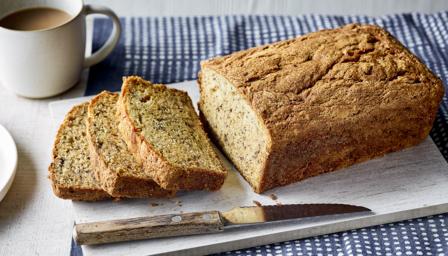 1 cup Brown Rice Flour (or flour of your choice)
Pinch of Salt - I like to use pink Himalayan
1 tsp Organic Vanilla Extract

1. In a large mixing bowl, mix together the ground almonds, brown rice flour, cinnamon, nutmeg and a pinch of salt.
2. Now add the sultanas and give it another mix.
3. Turn your oven on to 180

°

C and measure out the 1/3 cup of coconut oil. Place the cup measurement onto a baking tray to prevent spillage and place in the oven until it's melted.
4. Mash the 3 bananas with the back of a fork until they are smooth and then remove the dates from the water and remove their stones. Mash the dates with the back of a fork too until a thick paste forms.
5. In a small mixing bowl, mix the mashed bananas and dates together and add the vanilla extract.
6. Remove the coconut oil from the oven, which should be nice and melted now, and add it to the banana mixture.
7. Pour the wet mixture into the dry mixture and stir until combined.
8. Distribute the mixture into a loaf tin and sprinkle with flaked almonds.
9. Bake for 35 minutes. After 35 minutes poke a knife through the centre of one of the loaves and remove it. If it is clean, it's ready!