by Julia Alsop
Winterreise by Schubert (D. 911), sung by Ian Bostridge with Thomas Adès at the piano, The Barbican 12th January 2015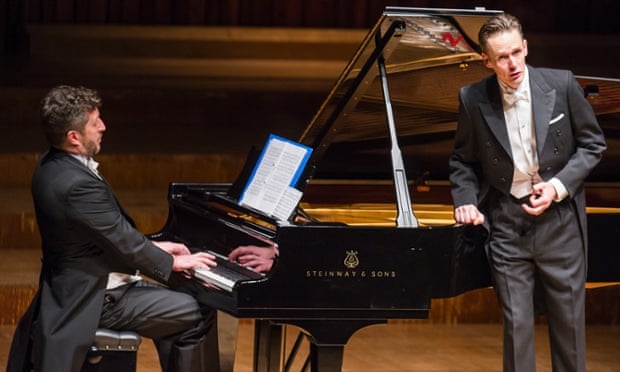 Thomas Adès (left) and Ian Bostridge (right)
performing Schubert's Winterreise at the Barbican
Schubert's Winterreise ("a winter's journey") is a cycle of 24 lieder for piano and voice, taken from the poetry of Wilhelm Muller. The protagonist is a man departing from a town on a journey on a night in winter. He reminisces about when he first came to the town and fell in love with a girl, with whom he had even discussed marriage but whose love had not worked out.
Setting out on this journey, he is in despair, and the song cycle follows his physical journey against the cruel winter weather and nature, as well as his emotional journey, until, lamenting in the final song, he seems to find some companionship in an old hurdy-gurdy player he comes across.
Schubert's music is sensitive, reflecting the agonizing emotional toil of the character, and Bostridge certainly pulled this off, with his expressive voice and emotive presence on the stage. In the post-performance talk, Bostridge, who has recently also written a book on Winterreise, expressed that all his gestures and movements when singing were entirely spontaneous. I think that was one of the things that made the performance have such a stirring effect on the audience; there seemed to be genuine purpose behind each of his (and essentially the character's) gestures.
The relationship between Bostridge and Adès was also very engaging, with an incredible sensitivity towards each other, which really reinforces the intimacy of the work. However, perhaps my only real criticism is that the venue, whilst being one that I'm normally very fond of, was too big to really totally create the intimacy I feel is needed between the audience and the performers.
That said, I was left emotionally drained and, judging by the 30-seconds of silence following the cathartic ending of the work, I was not the only one.