by
Olly Clark
Hans-Joachim Eckert
(Telegraph)
Today, fresh allegations were made of corruption against football's chief governing body, FIFA. These allegations were brought to light by the Sunday Times newspaper, and incriminate not only the two countries most under the spotlight, Russia and Qatar, who won the rights to host the 2018 and 2022 World Cups respectively amidst great controversy, but also England and South Korea are being accused of trading bids so as to gain an advantage in their bids to host. This saga has had numerous twists and turns ever since it began on 2nd December 2010, when Russia and Qatar had their bids accepted.
The Story
The multiple-round, exhaustive ballot system was used to determine the tournament host. Each of the 24 members of the FIFA Executive Committee had one vote. The candidate country that received the fewest votes in each round was eliminated until a single candidate was chosen by majority vote. I'm sure that you would agree that this is a fair, fool-proof system for selecting the countries that are most suitable and deserving for holding such a prestigious event. However, before the rounds of voting could even be completed, two FIFA committee members, Reynald Temarii and Amos Adamu had their voting rights withheld due to allegations of vote-selling. Both received 1 and 3 year bans from the organisation respectively, but this was to be just the beginning.
The Response
On 10th May, 2011, former England 2018 bid chief Lord Treisman told a House of Commons select committee that four FIFA committee members had approached him asking for various things in exchange for votes. Among the accused were FIFA Vice President Jack Warner, who is accused of asking for £2.5 million to be used for projects, and Nicolas Leoz, who allegedly asked to be given a knighthood.
Michael J Garcia
Also on 10 May, 2011, The Sunday Times reported, two committee members, Issa Hayatou and Jacques Anouma, were given $1.5 million in exchange for their votes in favor of Qatar. FIFA would go on to request to see the evidence of the allegations. On 30 May 2011, FIFA President Sepp Blatter rejected the evidence in a press conference, while Jack Warner, who had been suspended that day for a separate ethics violations, leaked an email from FIFA General Secretary Jérôme Valcke which implied that Qatar had bought the rights to host the 2022 FIFA World Cup. Valcke would later issue a statement denying he had suggested it was bribery, saying instead that the country had "used its financial muscle to lobby for support".
The whistleblower at the centre of the allegations was later revealed to be Phaedra Almajid, who claimed that she had come up with the claims of corruption in order to exact revenge on the Qatari bid after being removed from her role in the campaign team. FIFA confirmed receiving an email, Almajid accepting all blame for her actions. She would also stress that she had not been put under any pressure by the Qatari bid team or anyone else to make a retraction of her accusations. John Whittingdale, the chairman of the House of Commons select committee for culture, media and sport, stood by the decision to publish the allegations against Qatar and the three executive committee members despite the retraction, but FIFA refused.
The Report
On 17 July, 2012, after the announcement of anti-corruption reforms by Blatter, FIFA appointed former United States attorney Michael J. Garcia as the chairman of the investigative branch of its Ethics Committee, while German judge Hans-Joachim Eckert was appointed as the chairman of the Ethics Committee's adjudication chamber. Garcia, Eckert or their families had no connection to soccer in the previous four years, and were therefore suitable for these roles. In August 2012, Garcia declared his intention to investigate the bidding process and decision to award the right to host the 2018 and 2022 FIFA World Cup to Russia and Qatar.
Phaedra Almajid
(BBC)
FIFA forbids bid teams to offer incentives to members of its executive committee and their relatives. Garcia subsequently expanded his investigation into the entire bidding process for the 2018 World Cup. His investigation allowed him to demand interviews with football officials, with those refusing subject to disciplinary action. He was expected to name individuals who refused to speak to him in his report.
In September 2014, Garcia delivered his 350-page report to Eckert, who stated that it could not be made public for legal reasons, and that only his judgement would be made public in Spring 2015. Eckert later announced that his overview of the Garcia report with Garcia's main findings, summary, conclusions and recommendations will be published by the middle of November 2014. Eckert has stated that "Many won't like what I am going to tell them" in reference to his judgement on the report.
The Summary
On the 13th November 2014, Hans-Joachim Eckert released a 42-page summary of his findings after reviewing Michael Garcia's report, clearing both Russia and Qatar of any wrongdoing during the bidding for the 2018 and 2022 World Cups. The Eckert summary instead put the spotlight on England and Australia, who had unsuccessful World Cup bids, finding "potentially problematic facts and circumstances" in their bids and stating that they had undermined the integrity of the bidding.
Hours after the Eckert summary was released, Garcia himself criticised the verdict for being "materially incomplete" with "erroneous representations of the facts and conclusions", while declaring his intention to appeal to FIFA's Appeal Committee. There have since been several calls for the Garcia report to be released, including from several of FIFA's committee members. Eckert, who was quoted as "surprised" by Garcia's response, refused to agree to allowing the initial report to be published.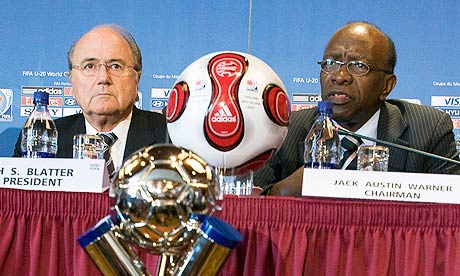 Sepp Blatter and Jack Warner
(Guardian)
What Next?
As the story seems to become more farcical every week, the only way that I believe FIFA can salvage any dignity is to publish the Garcia report, admit any wrongdoing and move on. On the 15th November, 2014, German Football League president Reinhard Rauball warned that UEFA may be forced to quit FIFA if Garcia's report is not published in full, stating that "If this doesn't happen and the crisis is not resolved in a credible manner, you have to entertain the question of whether you are still in good hands with FIFA". If UEFA were to split itself from the governing body, ending the 60-year partnership between the organisations since UEFA's inception in 1954, I cannot even start to imagine where that would leave World Football as we know it. Are we looking at the beginning of the end of FIFA?