by Caleb Barron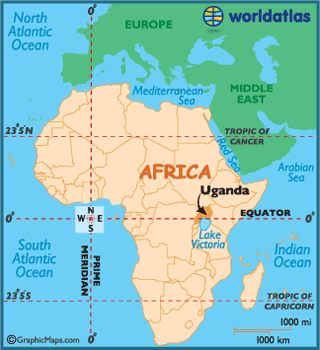 (source: worldatlas.com)
Uganda is the second most populous land-locked country in the world. It's situated in the middle of Africa (slightly left of centre) and borders Kenya, Tanzania, Rwanda etc. It also holds a fair portion of Lake Victoria and the suggested official source of the Nile. From the early 1800s until 1962 Uganda was a British colony. After becoming independent the country was thrown into chaos until 1986 when the current president Yoweri Kaguta Museveni took power in a coup.
The President of Uganda is both the head of state and head of government and appoints a Vice President (currently

Edward Ssekandi

) and a Prime Minister (currently

Ruhakana Rugunda

). Parliament is formed by the National Assembly consisting of 322 members, 104 of which are nominated by interest groups (women, the army) and the rest are voted for 5 year-terms during general elections. The current system of government has kept the country quite stable; however it is considered extremely corrupt and many countries have threatened to pull out of continuing with aid donations if the government is not more transparent and the controversial anti-gay bills aren't addressed. It is estimated that $286 million is lost annually to corruption and in June 2014 two piglets were smuggled into parliament as protest.
Today, although the more developed part of the country is more at peace, in the north of Uganda there is often conflict. Much of this is caused by the Lord's Resistance Army led by Joseph Kony. There are also attacks on people's political freedom including the arresting and assaulting of many political oppositionists. This caused part of the British aid to be shut off. All this means that an estimated 1.4 million people are internally displaced each year. There is also much child labour generally in the agricultural sector and a lot of child trafficking takes place. Torture is a big problem in Uganda and between January and September an estimated 792 torture killings took place.
In January 2014 an extremely controversial and disputed bill was passed making homosexuality illegal (death sentence given to homosexuals). This caused uproar all over the world. The bill included suggestions that homosexuals were trying to recruit Ugandan children. Ugandan publications published gay lists encouraging the harming of those on the list and David Kato, a gay rights activist, was murdered in January 2011. Gays and lesbians are missing believed to be dead.
After decades of war Uganda's economy is on an upward trend. In 2008, despite worldwide economic crisis and local conflict, Uganda recorded a 7% economic growth. Much of the money is generated through exports such as coffee, tea and fish. The country, having pulled itself out of a violent regime led by Idi Amin, reduced inflation quickly with the help of other countries. In 1987 inflation ran at 240%, by 1992 this had lessened to 42% and 2003 it was recorded as 5.1%.
It is clear to see that the colonisation of Uganda and its later civil wars that lasted decades have left deep scars in Uganda's politics and economy, but it is recovering. It may be a while before Uganda has 'caught up' to western politics and become more liberal on certain issues and it is clear to see that although Uganda has clear economic growth it still has a long way to go. Uganda is, however, the most beautiful place I have ever been and is full of many amazing people all with a story to tell and a vision of where they want to get to. Motivation is in their blood and that's something that we need to learn. For a Ugandan education and employment in a job that is respectable and enjoyable is a great concern and they do not need parents and teachers to push them because they strive to push themselves. This is why I feel that Uganda has as much to teach us as it does to learn from us.