by
Will Pearson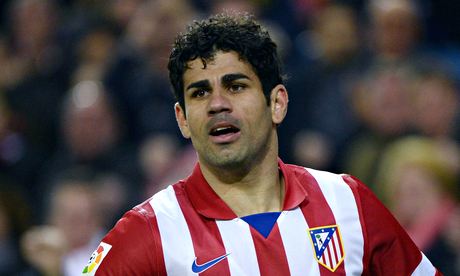 Diego Costa
The Barclays Premier League is the most watched, supported and well-known league in world football. It is broadcasted in 212 territories around the globe, working with 80 different broadcasters. The TV audience for Premier League games is 4.7bn, and the number of homes reached last season increased 11 per cent to 643m. In total, the League clocked up 185,000 hours of TV coverage in 2010/11, an increase of 65 per cent on the previous campaign. With this level of support, players are expected to put on a real show, and the start of each season is dripping with anticipation and expectation.
This summer saw the busiest transfer window in BPL history, with a record transfer fee payed for Angel Di Maria, a jaw-dropping £59.7 million, as Manchester United look to overcome the shame of last season's seventh place finish. Other notable transfers include Spanish striker Diego Costa to Chelsea, and controversial Italian Mario Balotelli to Liverpool. With big names like these gracing the BPL stage, it came as no surprise that the season got off to one of the most exciting starts to date.
All eyes were on Manchester United, as they kicked off the season at home against Swansea. Fans thought that under a manager of Louis Van Gaal's experience and achievements, they would instantly regain the dominance they once showed under Sir Alex Ferguson. However, goals from Ki and Sigurðsson quelled the optimists, and United walked away with a 2-1 defeat, at home. Thinking it was simply an adjusting match, and after a strong pre-season, it came as an even bigger shock when United only managed a draw against both Sunderland and newly promoted Burnley, in the following weeks. It seems that the dip in form for the league's most decorated team is not yet over.
Liverpool entered the season on the back of an exceptional second place finish in 2013/14. Having lost star player Luis Suarez to Barcelona over the summer, few pundits are predicting similar heights this time around, and the Reds have a point to prove in the BPL, and in their return to the Champions League. The acquisition of Mario Balotelli for the bargain price of £16 million seems to have paid off, after an exceptional performance from the young Italian in Liverpool's 3-0 battering of Spurs. Raheem Sterling, however, has been their stand out player. 2 goals and 2 assists in 3 games speak volumes about the 19 year-old's talent. Daniel Sturridge is yet to find the form of last season, and an injury during international duty has put him out of manager Brendan Rodgers' plans for the coming weeks.
The squad Chelsea boasts is incredible by anyone's standards, and fans and pundits alike are backing Jose Mourinho's men to go all the way this year. The blues have more than lived up to the expectations, having not lost a game so far. With a lack of prominent strikers since Didier Drogba's departure, new acquisition Diego Costa seems to have been the final piece of the jigsaw, scoring 7 goals in just 4 games. It can be argued that Chelsea haven't faced the more challenging opposition the BPL has to offer, but with Costa in an already eye-catching team, I cannot see the Blues settling for anything less than the title this year.
Last year's champions, Manchester City, certainly looked like a top 4 team after a convincing 3-1 win over Liverpool. However, a slip up against Stoke, which resulted in a loss, and a draw with Arsenal have given them a less than convincing start to the campaign. This could be down to the fact that City did not make any 'marquee signings' over the summer, and highlights the importance big names have on teams.
At the other end of the table, Newcastle, West Brom and Burnley have all endured a miserable start. Magpie's boss Alan Pardew looks to be on his way out after a crushing 4-0 defeat to a weakened Southampton side at the weekend, with the 'toon army' still awaiting their first win of the season. West Bromwich find themselves in a similar position after having only secured 2 points out of a possible 12. However, it is still early days, and both could achieve a lot this season. Other clubs such as Burnley and QPR look likely candidates for relegation, and I would also be worried if I were a Crystal Palace supporter looking at current performances. Whatever the outcome, the Barclays Premier League will undoubtedly live up to its reputation as the world's most dramatic and entertaining competition.