by Henry Ling and Kelvin Shiu
We asked some teachers to name their favourite films, actors, directors and genres. Here are their very diverse responses:
Mrs Jackson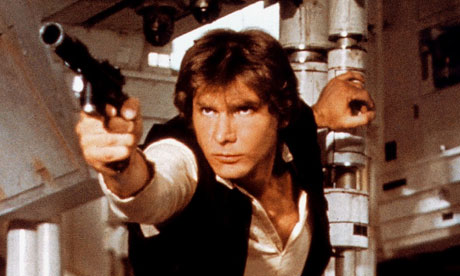 Harrison Ford in Star Wars IV
Favourite genre is Sci-Fi. I will watch any Sci-Fi movie even if it has really bad reviews.
Favourite film(s) of all time has to be the classic Star Wars Episodes IV, V and VI. I have watched them so many times that I can even quote the Jawas. In fact I think I will put one on again now. I was even sad enough to read all the books when I was younger.
Favourite protagonist: Han Solo. He is just so cool.
Favourite actor: Harrison Ford, but with Sean Connery coming a very close second.
Favourite director is a tricky one as I can appreciate their work without actually liking the films. However going for the all-round package of enjoyable film as well, then I will have to go with Peter Jackson for the Lord of the Rings and Hobbit series.
Mr McGuiggan
Edward Norton and Brad Pitt in Fight Club
F
avourite genre: I don't really have a favourite genre - anything but horror really, because, as a general rule the acting is horrible. I quite often get dragged along to see horror films in the cinema and I complain the whole time; the only decent one I can remember seeing is The Cabin in the Woods. If I had to chose, I would probably say I like thrillers, comedies or anything nerdy, like LOTR, Star Wars or any sort of comic book adaptation.
Favourite film: Pulp Fiction, Fight Club or The Departed
Favourite protagonist: Tony Montana is up there as one of my most memorable protagonists; Scarface is a fantastic film.
Favourite actor: I think actors like Robert De Niro, Leonardo DiCaprio and Brad Pitt have been all consistently brilliant for such a long time. If I had to pick someone less obvious I would have to chose from one of the following: Joseph Gordon-Levitt, Sam Rockwell or Edward Norton.
Favourite director: Quentin Tarantino and Martin Scorsese are my favourites by far. I also rate David Fincher quite highly, particularly for Fight Club; it's one of the few times I've read a book and thought the film was better. Chuck Palahniuk actually came out and said he thought the film was better than his book, which must be a massive compliment for any director. Of course, the best director I have ever worked with is our own Dom Baker...
Mrs Giles

Anthony Hopkins and Jodie Foster in Silence of the Lambs
What is your favourite film genre?
Murder/ serial killer/ forensic/detective
What is your favourite film of all time?
Silence of the Lambs
Who is your favourite protagonist in a film?
Favourite? – antihero? Shorty in Get Shorty.
Who is your favourite actor?
Sean Connery as James Bond
Which director do you think is the best?
Alfred Hitchcock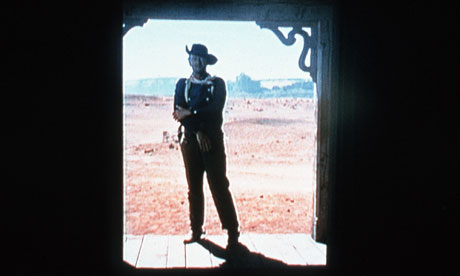 John Wayne in The Searchers
Favourite genre: Historical dramas.
Favourite Film: Goodbye Mr.Chips (The Robert Donat/Greer Garson version, not the dreadful remake with Peter O'Toole).
Favourite Protagonist: Ethan Edwards, played by John Wayne in The Searchers (I'm not quite sure what is meant by protagonist - I've taken it as principal character).
Favourie Actor: It seems a little odd to ask about my favourite actor but not ask about my favourite actress. The answers would be Robert Donat and Claudette Colbert. My favourite director is Vitorrio De Sica.
What is your favourite film genre? Difficult to choose one – just enjoy film!
What is your favourite film of all time? That is impossible to answer!!!! If I had to . . . Going My Way.
Who is your favourite protagonist in a film? Hannibal Lecter
Who is your favourite actor? Bette Davis
Which director do you think is the best? George Lucas