by Sophie Whitehead
First and foremost I'd like to share a little thing about me, and that is: I don't like decisions. Whether it's how many corn flakes to have in my cereal in the morning to how many hours of revision I should do for the inevitable fate of upcoming GCSEs at the end of the year; it's almost impossible, for some unearthly reason, for me to choose.
That is why, as you can imagine, I found it so incredibly hard to compile a list of events which would make some of the top most iconic moments of 2013 when it has to be said; this year has been a year of so many truly mesmerising things and I thought it only fitting to create my article on these things, seeing as we are only shortly into the new year itself and what better time for reflection, if you ask me?

You will be pleased to know I have not categorised these events in order of importance (as that really would be too difficult) and, in truth, many of these moments would not be on your own personal list, and nor should they be, but I have tried to cater for a wide audience as to not lose anyone's attention so I do hope you'll forgive me if something is on here that doesn't necessarily fit your personal views.
However, if you do carry on reading, and I very much hope you will, you will see many an event, for every reason under the sun, right through from who had the greatest fashion faux-pas through to the great changes in politics that have taken place this year (which should be interesting as politics isn't really my forte.)
6.
The return of the multi-million hit-movie franchise 'The Hunger Games'
2013 saw the return of the über popular movie sequel 'Catching fire', but this time in 3D and IMAX so viewers could experience the film like never before. For those who aren't familiar with The Hunger Games trilogy, three words: You should be. It was originally a book trilogy; 2012 saw the release of the first film, but 2013 saw Suzanne Collins (the author of the original series) reap her rewards; as the movie was placed second in the list of highest grossing movies of the past few years. The only downfall is the fact that fans of the series have to wait another two years before the third book comes out in cinema, and even then a further year before the final instalment arrives. At least it'll give us time to refresh our memory and read the books again?
5. David Beckham finally retires
Now onto sport. We may have expected many things waiting for Big Ben to strike 12 on NYE 2012, but many of us did not foresee the unexpected news that David Beckham was finally retiring. The former England captain and keen player for Real Madrid and Manchester United, and undoubtedly one of football's most infamous and popular figures, Beckham hung up his boots once and for all in May. His final role, helping Paris Saint-Germaine win their first League 1 title since 1994, was the "finishing touch" of a truly impressive career. Another notable event of 2013.
4 .
Prada casts its first black model in almost 20 years
The day images of Prada's winter/fall campaign of 2013 were released, right back in July, the fashion world did a double take. They then smiled at the progress they had made in overcoming racism. Prada had cast its first black model in nearly twenty years for its fall/winter campaign and nineteen year old Malaika Firth was the product. The last lady to have graced the magazine: none other than supermodel Naomi Campbell - of course, right back in 1994, (which just happens to be the exact same year Malaika was born) so this was a serious case of

passing on the baton. True, many of you may wonder how this makes the list of iconic moments of 2013, but if you think about it…overcoming racism? A pretty big issue if you ask me.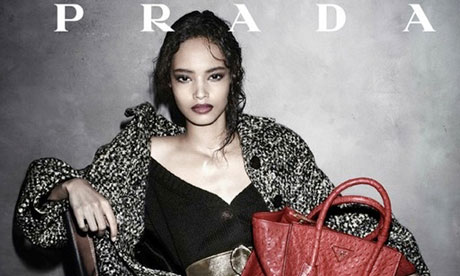 (source: Guardian)
2013 brought the much anticipated arrival of little Prince George Alexander Louis of Cambridge, b

orn on the 22nd July in St Mary's Hospital, London

The latest arrival in the palace undoubtedly boosted the national economy but also found a focus for national pride in England throughout the year. But then it would be hard for people to not be excited, he really is adorable.
2. Murray meets Djokovic 2013 brought Andy Murray his first ever Wimbledon title and ended once and for all Britain's 77-year long wait for victory in the men's finals. He defeated Novak Djokovic, converting his fourth major championship point to an incredible win which delighted the 15,000 spectators watching the slam victory on Centre Court as well as supporters all over the world. Just another one of the many events of 2013, I suppose?
1.
Death of Nelson Mandela
The death of the visionary leader, Nelson Mandela. Is there any need to say more?