by Fergus Houghton-Connell
With the season having come to an end, the transfer window will open up on the 1st July, with the clubs having two months to sign the players they need to kick-start their league. The fierce contest for Champions League spaces is set to continue and the top five clubs will be lining up the transfers to try to get into Europe's elite competition, so here are my suggestions for who the top five clubs should buy.
Manchester United have very few weak spots and it shows, as they won the league this year. But with Man City looking to spend huge amounts on new players, Man U should sign a few players, just to be safe. Man U's attack and midfield is strong and De Gea looks like a very good goalkeeper. But I think their defence is aging a bit, especially with Rio Ferdinand still making the team. So, I would suggest a young defender that they can blend into the team over the next year. At only 23, Neven Subotic is a very good centre back, but he seems to enjoy life at his current club, Borussia Dortmund, not to mention Dortmund won't want to lose him cheaply. Man U will probably have to make a big bid, perhaps over £20 million, to sign Subotic, but I think he'll fit in well if he goes and Man U do have the money to spend.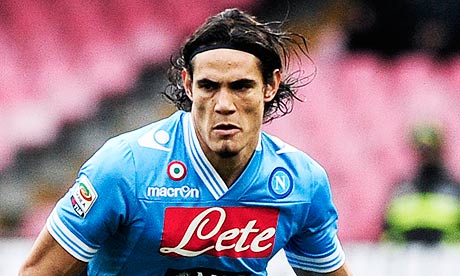 Edinson Cavani
(source: Guardian)
City have already agree a £30 million deal for midfielder Fernandinho and £20 million for winger Jesus Navas, but I don't think they were very good signings and they still need to sign more. I believe a defender and a striker are needed, after Aguero and Kolarov didn't perform as well as they would have liked. City clearly have the cash and so I think they should go for Napoli striker Edinson Cavani. Cavani was Serie A's highest goal scorer last season and Napoli want £53 million (his buy-out clause) for their tope striker. There will be fierce competition from Chelsea for the Uruguayan, but City can outbid almost anyone. As for a defender, if City are going to spend a lot, they might as well go for the best. Thiago Silva would be a good signing, but PSG signed him only last year for £36 million. City can bid higher, but it is unlikely the Brazilian will leave the French champions.
With the return of Mourinho, Chelsea's owner Roman Abramovich will be willing to splash the cash in order to bring success back to the club. There are rumours that Mourinho will have a £100 million budget. So, Chelsea should be able to patch up any weak spots, with one of them being the striker position. Fernando Torres and Demba Ba just haven't fully clicked at Chelsea, so I think Chelsea should try to buy Cavani, even with his £53 million price tag. They'll have competition with Man City, so really it's about who wants to meet the price tag set by Napoli and sign a world-class striker. As for the rest of the team, John Terry is a bit old, so perhaps a young defender would be a good idea. A player like Bayern Munich's Dante would be ideal, but he will have a high price tag and he won't want to leave the Champions League winners without being paid a lot of money, so perhaps a less known player would be better. Nastasic at Man City could be a good buy, as he's only 19, but Man City are unlikely to sell a young talent to a big rival.
Gonzalo Higuain
(source: Real Madrid)
Arsenal's Chief Executive Ivan Gazidis has said Arsenal have a £70 million budget, but knowing Arsene Wenger, it's unlikely he'll spend half of that. Arsenal probably need a striker, a midfielder and a right back, with Arsenal already rumoured to be interested in Marouane Fellaini, Wayne Rooney and Gonzalo Higuain, all of whom would be good signings. It's unlikely Arsenal will get all three, but I wouldn't be surprised to see one or two of them at the Gunners next season. As for a right back, Bacary Sagna is getting past it, so I think someone like Micah Richards would be a good signing for Arsenal. Richards is a solid right back, who has had not much playing time at Man City, so he could probably go for around £10 million and his wages are unlikely to be too high.
The main aim for Spurs is not to lose Gareth Bale. If they lose him, they'll have a rough season next year and I would be amazed if they made the top four without him. But even with Bale, Spurs have shown they can't reach the Champions League and it was probably due to the fact they didn't have a consistent goal-scoring striker, as they were left with Defoe and Adebayor, both of whom are inconsistent to say the least. Spurs are rumoured to be interested in Leandro Damiao, who has scored quite a few goals for Internacional. He'll cost at least £20 million, but he'll be worth it for Spurs. Another issue is that Spurs' defence is rather bad, compared to the top four. They need a solid centre back, which is harder to find than it seems these days. A defender like Benedikt Howedes of Schalke would be ideal for Spurs, with a price tag of around £10-15 million. Spurs will have to spend a lot if they want Champions League football in 2014.
Leandro Damiao