by James Burkinshaw
George Bellows (1882-1925) was one of the most interesting American artists of the early twentieth century, but the current show (
George Bellows: Modern American Life
) at the Royal Academy (16th March- 9th June) is the first comprehensive exhibition of his work seen in Britain.

Stag at Sharkey's, 1909
(Cleveland Museum of Art)

The painting for which Bellows is best known (and deservedly so) is the extraordinary
Stag at Sharkey's,
in which the slashing, aggressive brushwork conveys a scene that is savage and existential, anticipating the work of the British artist Francis Bacon in its portrayal of the two fighters as slabs of meat, their bodies seeming to collapse and melt into each other, evoking both vitality and vulnerability. The boxers' bloodied faces are grotesquely mirrored in the flushed expressions of excited audience members. Public boxing matches were illegal in New York in 1909 (held only at "private clubs" run by mobsters such as Tom Sharkey), but Bellows noted "
the atmosphere around the fighters is a lot more immoral than the fighters themselves."
The malevolent, demented, demonic faces in the crowd seem to belong in a lunatic asylum (and are reminiscent of the Spanish artist Goya's portraits of the insane). The painting both celebrates and condemns what it reveals; critic Edmund Wilson noted that Bellows and contemporaries such as Eugene O' Neill and Frank Norris "
accept frankly the ugliness of their material, but also confess their appetite for it."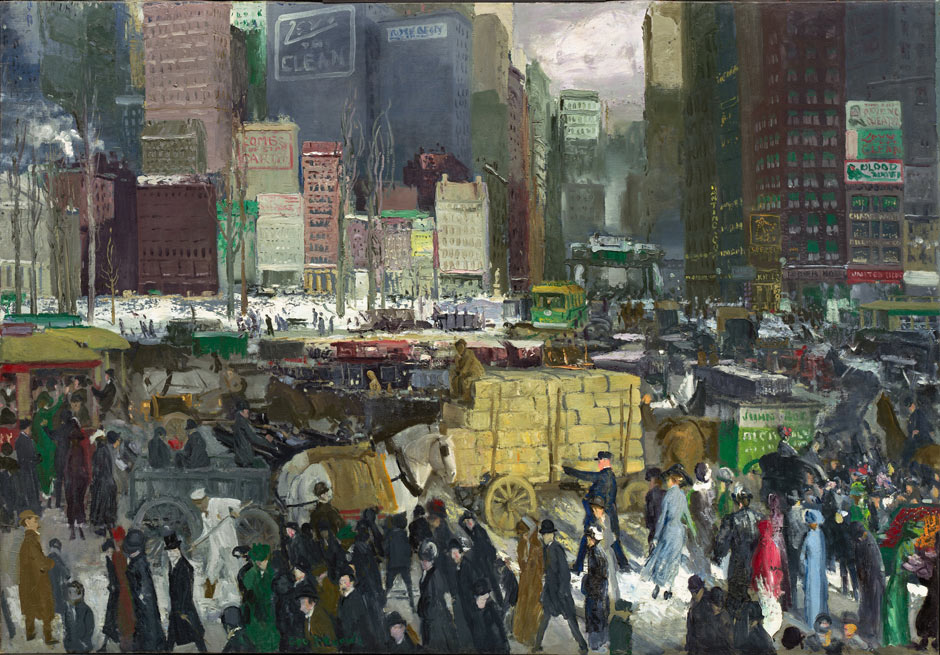 New York, 1911
(National Gallery of Art, Washington DC)
Wilson described Bellows as the "
emblematic painter of his generation
" who, in paintings such as
New York
(1911), presented the emblematic city of his age as dynamic and dizzying, with its vertiginous skyscrapers, streaming traffic and tumultuous crowds. However, the artist also conveys the city as oppressive and claustrophobic; the hunched, faceless figures seem furtive and fearful, the individualistic red shawl and green dress drowning in a sea of grey. There is virtually no open space, except for a narrow strip of washed-out sky and a tiny park protected only by thin, denuded trees.

An Island in the Sea, 1911
(Columbus Museum of Art)

It was, therefore, interesting to find that so many pictures by a painter so closely associated with urban New York were of rural landscapes or seascapes. Painted in the same year as
New York,
An
Island in the Sea
conveys stillness and solidity through slow, deep brushstrokes. Describing the sea as an "
eternal subject
", Bellows seemed to be searching for a sense of eternity, of transcendence, an escape from the Darwinian ugliness presented with such ambivalent vigour in
Stag at Sharkey's
and other New York pieces. However, it is difficult to agree with Bellows' own judgement that
An Island in the Sea
is his "
masterpiece
"; it seems stylistically derivative, more significant as an act of therapy than as a work of art.
The Picnic, 1924
(Maryland State Archives Collection)
The exhibition ended with the words of writer Sherwood Anderson: "
His last paintings tell you that Mr George Bellows died too young
(aged 42)
. They are telling you that he was after something, that he was always after it."
This is both the virtue and flaw of Bellows' later work. He was heavily influenced by the revolutionary Armory Show of 1913 that introduced the work of European Modernists such as Matisse and Seurat to American artists for the first time. In his enthusiastic attempt to adapt his own style to the latest artistic theories, Bellows seemed to lose his own distinctiveness as an artist, offering paintings that were technically accomplished but too often a pastiche of European artists, as if he was desperately trying to find his own Modernist identity.
However, that same restless energy ensures that Bellows' work, even when unsuccessful, is rarely uninteresting. In the year before his untimely death, he produced one of my favourite pieces in the exhibition,
Picnic,
a landscape that uses the mirroring effect of a lake to create a haunting stillness and depth. Where the earlier
Island in the Sea
seems muted and flat,
Picnic
's stylised use of colour and line create a fantastical, unsettling sense of otherness that encompasses the innocence and expansiveness of youth as well as darker intimations of mortality. It is the work of an artist still searching.