Hattie Gould and Annie Materna

delightful . . .
(source: phestival)

We all know that as summer is (slowly) coming back; so is the festival season. The panic of which festival to go to sets in and soon enough almost everyone has bought a ticket. Whether it be Reading, Bestival, Isle of White or V, people are beginning to experience that exciting festival 'buzz'. However, is the idea of a festival better than the reality?
Festivals are the ultimate way to fill your summer; what is better than seeing your favourite bands with your friends away from the imprisonment of your parents? Nothing. Meeting new friends, whacking out the wellies, getting a face paint, maybe even a suntan (hopefully no face paint sun tan lines) and going on rides, sounds great. You can not only do this for just one day but you can do it for three days
…
what an adventure! The adventure continues with festivals bringing unexpected joy, and never quite knowing what is coming round the corner, literally and metaphorically. It may be someone in fancy dress or it could even be you stumbling across a new up and coming band.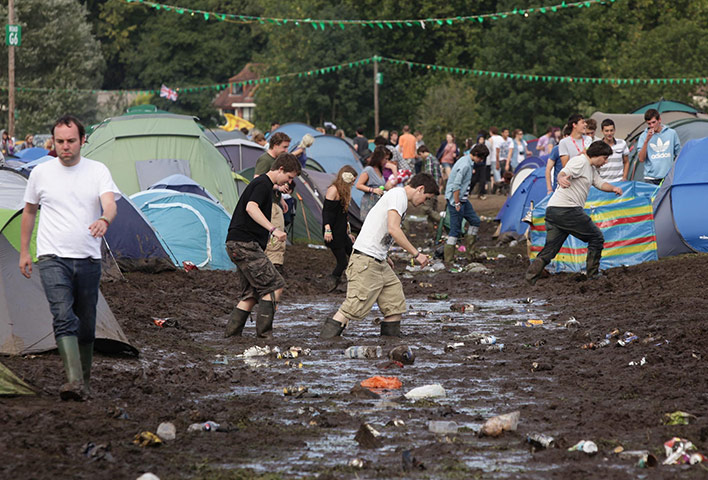 . . . frightful
(source: Guardian)
Also if you
'
re lucky and the sun is shining you may even be able to spot the odd celebrity trekking around the fields in some rather skimpy clothing. To better this, if you get to the front of the crowd you may even be able to touch your favourite artist whilst they perform! What must not be forgotten is how delicious the food is: full English breakfast every day, an unlimited choice of lunch and dinner may it be a burger, Chinese or Indian. Although these foods are great, they hold nothing on the desserts: freshly cooked donuts, melted chocolate and strawberry
'
s or pancakes and waffles
…
perfect! It can be said that going to festival is like going to a three-day party, what a weekend that will be!
However, this view may not be held by every ex-festival goer.
Cold, wet and windy, loud, dirty and busy- what is so exciting about that? Understandably, seeing Eminem perform at Reading or Bastille at Bestival may well make it worthwhile, but two, three or even four nights of camping in the mud, drinking from 9 in the morning and queuing hours for what can only be described as a toilet does not sound like the most relaxing way to spend a weekend. Festivals can also be dangerous places to be: young, naive teens robbed of their purses, tents cut in to, drinks spiked, many unfortunate people slipping over and losing their wellies in the sloppy mud and the even more unfortunate act of your tent flying away...
However, despite the almost guaranteed rain and, consequently, the malicious mud fights, thousands of people continue to go, so if you have been roped in by your friends and are bravely taking the risk of going to a festival, beware of the risk of camping without a tent and walking around with one wellie on... Good luck! However, if you are an avid festival goer
…
Have fun!