by
Fay Davies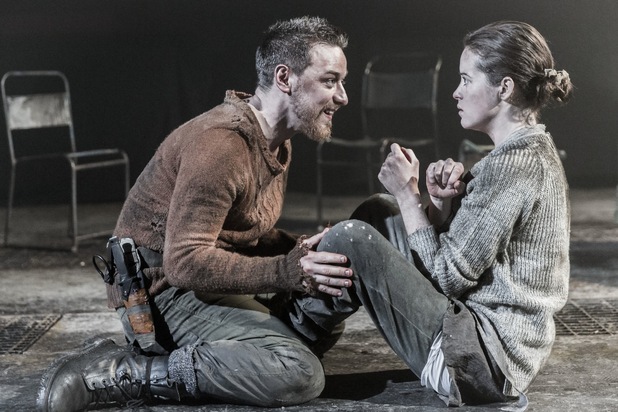 James McAvoy and Claire Foy in 'Macbeth' at Trafalgar Studios
Sitting in the theatre, before the performance had even started, I was worried. I was worried because I thought no one would ever stop talking. Consisting primarily of groups of students like us, the audience was emitting a constant excited chatter that I didn't believe could ever cease. Occasionally there would be a sudden panicked hush – a false alarm – but it would be followed by an inexorable resurgence of noise. In the end I needn't have worried, as we were successfully silenced in exactly the way Shakespeare intended: 'thunder and lightning'. Without any warning, there was an outrageously loud thunderclap. The room darkened and three 'witches' appeared out of trap doors. They delivered the famous opening lines. They were wearing gas masks.
The gas masks are an important point. This production of Macbeth plays out in a post-apocalyptic Scotland, after some kind of war. It is modernised, but it worked well: the dress and setting were suitably dull, worn and battered, so as not to look jarringly contemporary. It created a background of destitution and desperation, against which the measures of Macbeth and his wife seemed more credible. The change did not violate Shakespeare's original; it merely gave some subtle added relevance to a current audience.
The abrupt beginning was not the only shocking moment of the play. It was a visceral production throughout - from the occasional overenthusiastic spit, to Macbeth's graphic and audible on-stage vomit, to the drawn out strangulation of Lady Macduff (in which I began to feel concerned for the actress's wellbeing). Of course, it wouldn't be Macbeth without obscene amounts of blood. There was blood splashed onto hands, splattered onto faces and smeared onto clothing. At the moment of Macbeth's death it rained down from above, gradually flooding the floor and staining the stage red.
The peak of this was, undoubtedly, at the end of the play. The body of Macbeth had just slumped (very realistically) down a trap door, followed by a victorious Macduff. Seconds later, Macduff emerged from a second trap door brandishing an alarmingly lifelike reproduction of James McAvoy's head. He continued to wave this head around for the remainder of the play, directing attention away from the last few bits of speech. A large proportion of the audience probably have no idea how the play actually ended.
I don't know a great deal about acting, but it seemed to me that the actors managed the play brilliantly. Seeing a play brings the words to life in a way that reading it cannot do, and I found myself surprised by lines that I had not noticed before. But there were some unexpected elements. For me, Lady Macbeth (played by Claire Foy) shouted too much. I imagine Lady Macbeth to have rigid self-discipline and cold determination, and I think this can be portrayed most powerfully by quieter, calmer speech. Instead, a kind of insane desperation took prominence. Macbeth's thoughtful and anxious side (which helps to redeem him from being purely evil) was underplayed by James McAvoy, in favour of more of a boisterous arrogance. As a soldier this befits him, but makes it harder to sympathise with him as he falls into torment. It didn't help that Macbeth was made to kill Macduff's son on stage – as Shakespeare wrote it, he is not even present for the murder.
The small size of the theatre did make it harder to ignore the rest of the audience and their largely inappropriate laughter - but it was a worthwhile sacrifice. The very closeness of the actors, ceilings and walls gave the perfect kind of intensity. It was an intensity that inspired, for the most part, a terrified hush. Occasionally this hush was interrupted by genuinely comic moments, but the cast always managed to recapture it. It was this capacity for variety, perhaps, that made this production so accomplished. It was a powerful, fiery performance overall.
See Emily Duff's review of the RSC's acclaimed production of
As You Like It.