by
Daniel Rollins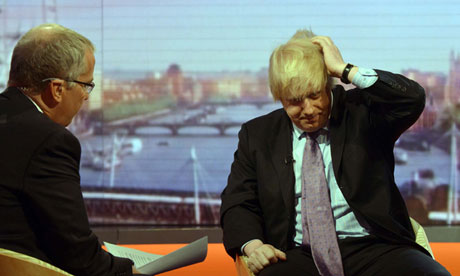 'a bicycle crash of an interview'
(source: The Guardian)
Yesterday evening the BBC showed
Michael Cockerell's documentary about Boris Johnson, "The Irresistible Rise."
In the hour long program Cockerell looks at one of Britain's best loved yet controversial politicians through interviews with many of his friends, colleagues and family mixed with some of his famous appearances in the media, both good and bad. The whole film is
centered
on an interrogation style interview with the man himself as he answered questions about his past and future ambitions, and responded to many of his private and public indiscretions.
I first heard about the film was on Sunday when #Boris began trending on twitter as people reacted to his appearance on the "The Andrew MarrShow (without Andrew Marr)". What should have been an easy Sunday morning interview for the experience statesman turned into what the Guardian described as a "bicycle crash of an interview." The replacement presenter, Eddie Mair, ended up calling the Mayor of London, "a nasty piece of work" citing his extramarital affairs, admission to have having "sandpapered" a quote while working as a journalist for The Times and agreeing to help have another journalist beaten up. For the first time "BoJo" appeared lost for words and floundering. Expectations for the documentary were set high.
The program itself began by documenting Boris' childhood moving around the world with his parents and three siblings and later attending Eton where he had his first taste of power as "School Captain". This was also when he first met "Cameron minor", who later became a recurring character in Johnsons' political life. On leaving Eton he went to Oxford to study Classics and became the president of the Oxford Union on his second attempt. It was at Oxford that he also became a member of the
infamous "Bullingdon Club." When confronted with the picture of himself with the other members of the club (including Cameron minor) he called it a "truly shameful vignette of almost superhuman undergraduate arrogance, toffishness and twittishness," admitting that his "biding memory is of deep, deep self-loathing."
After this Cockerall confronted the Mayor with controversy after controversy from his colourful career; from fabricating a quote which got him sacked from The Times to his promise to help Darius Guppy, a convicted fraudster and Bullingdon chum, find a journalist so he could have him beaten up, and his numerous infidelities. To each accusation Boris responded just as he had when these stories had broken, with some jovial bumbling as if it was just a bit of insignificant banter. And somehow, yet again, he got away with it, appearing much more like the bumbling teddy bear we are used to than the "nasty piece of work" Eddie Mair accused him of being.
After this the documentary was less aggressive towards Boris, focusing on his election as Mayor of London and his reputation since then. After a few embarrassments early on in his mayorship, Guto Harri, his then Director of Communications, explains how his job was to turn Boris from a celebrity into a statesman, "without losing any of the celebrity". The result of this image management was showcased to the world during the London Olympics when crowds of supports chanted his name. This experience helped him to understand why Roman emperors put on their dramatic games.
So does Boris want to be Emperor? The last 10 minutes of the documentary looked at his ambitions for the future, his sister explained that he saw life as a, "competition" and he "always wanted to be on top". His father went so far to say Boris should be leader of the Tory's by the next election, but Boris himself, as reserved as always about his ambition to become PM, just gave some vague metaphor about rugby.
As with anything featuring Boris the program was very entertaining, his witty comments, classical allusions and shambling persona made him the star of the show despite some awkward moments. Although it was interesting to see how he reacted to being trapped by three large television screens showing images from his past the film
didn't
really tell us anything about Boris that we
didn't
already know. The program could be summed up by one quote from his former boss Conrad Black who described Boris as a, "sly fox disguised as a teddy bear." Is that news to anyone
?