by
Oli Price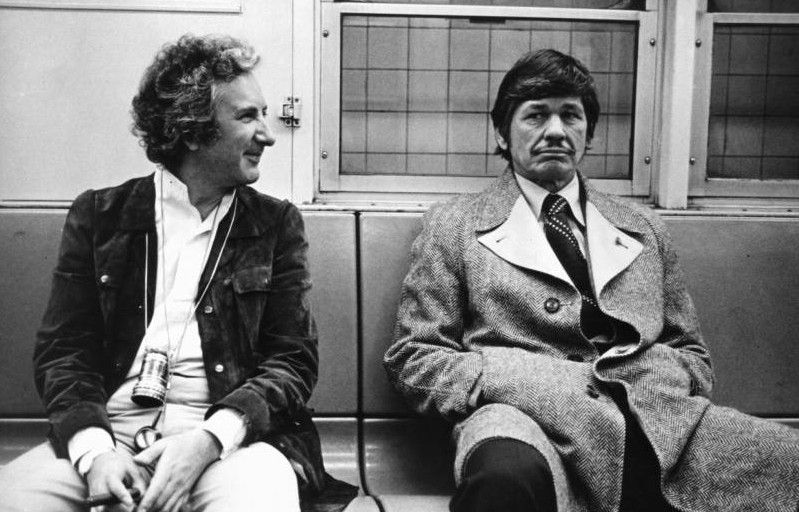 Michael Winner (left) and Death Wish star Charles Bronson
(source: cinemamuseum.org.uk)
Last month, the world lost Michael Winner to liver disease, and, although in recent years, he has become synonymous with his catch-phrase "Calm down, dear!" I have decided to take a look at his incredible life.
Robert Michael Winner was born an only child on the 30th October 1935 to George and Helen Winner; throughout his childhood he felt neglected by his parents, who wheeled him out to say hello to dinner guests. However, from this unhappiness Michael developed an infatuation with the famous and glamorous Hollywood A-listers and from age 14 was approaching them for his newspaper column

"Michael Winner's Showbiz Gossip".
In the 1950s, Winner began work at the BBC as an assistant director and soon began writing his own films. His early works were usually satirical comedies, one of which (Hannibal Brooks) gained Winner interest from America and also spawned his 25 year partnership with actor Oliver Reed. Another fruitful partnership of Winner's was his work with the American actor Charles Bronson, whom he directed in early films such as Chato's Land and The Mechanic.
Winner's most notorious pieces of work came from his collaboration with Bronson, namely the Death Wish film series, with all five films together making

$62,808,612 at the box office, which at the time was a much more impressive figure than it seems. The

Death Wish

series was based on the novel by Brian Garfield, a crime thriller centred around a man who becomes a vigilante after the death of his family. The first film in the series generated much controversy among film-goers, however it was commercially successful: one of 1974's highest-grossing movies. Following the success of the first

Death Wish movie, Winner attempted to branch out into other genres, however he found that this very success had pigeon-holed him as an action director and his other efforts did not meet with such box-office acclaim. However, perhaps he should have been more selective with the films he helmed as
Won Ton Ton, the Dog Who Saved Hollywood
was arguably never going to be a smash hit.
In the early 1980s, following his run of flops, Winner needed a commercially successful film and so teamed up with Bronson again to produce

Death Wish II,

which, despite receiving criticism for being just a more violent version of the first film, still made $

16,100,000 at the box office. Following this release, Winner repeated himself again and started producing flops; with his popularity and credibility on the slide, he decided to go out with a bang and released

Death Wish III. Following this, Winner decided to focus on directing smaller British films including Bullseye with Michael Caine and Roger Moore and Parting Shots.
Following his retirement from the film industry, Winner put his outspoken mind toward critiquing food and started a newspaper column called "Winner's Dinners"; he was very enthusiastic in his food, once quoted as saying "success has gone to my stomach". However perhaps he was too enthusiastic as, on 1st January 2007, Winner acquired bacterial infection

from

eating an oyster in Barbados. He almost had a leg amputated and verged on the brink of death several times; in retrospect, Winner regarded his decision to eat it as "stupid".
Despite his successful career, Winner's personal life did have its tribulations. After his father's death in 1975, his mother developed a serious gambling addiction to the extent that Michael recalled seeing marks in the paint in his house where beautiful paintings had been sold to pay for her addiction. Despite her gambling away Michael's £10 million inheritance, he always forgave her and urged her to get help with what he saw as an illness. Winner married Geraldine Lytton-Edwards and was typically candid about their engagement, saying
"I'm not sure when we will get married. I acquired a fiancé. I said, "Geraldine, darling, it's taken me 71 years to get a fiancé - so don't hold your breath for the wedding!" However, despite this, they did finally tie the knot on 19th September, 2011.
Michael Winner died aged 77 on the 21st January, 2013. Britain lost a national treasure and cinema lost a legend.