by George Neame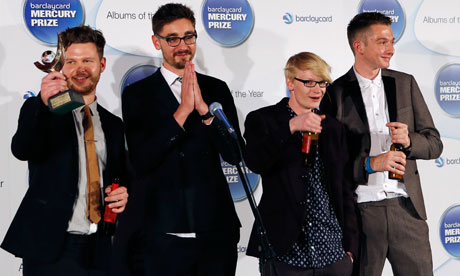 Alt-J celebrate winning the 2012 Mercury Prize
(source: The Guardian)
Drawing comparisons to indie four-piece Alt-J is a difficult task, the most common suggestions Wild Beasts and Radiohead still far from hitting the mark. The Cambridge-based act have exploded onto the scene in 2012 with their canorous and energetic mix of pounding piano chords, distorted bass lines and stuttering drum loops. An Awesome Wave's nomination for the 2012 Mercury Prize for Album of the Year came as no surprise, especially as they were tipped as favourites before the shortlist was even announced. Their win last week cemented their position as one of Britain's biggest emerging bands; Clash magazine claimed An Awesome Wave "Is too complete and rounded to ever be [considered] a debut," a judgment which resonates within the crowds that flock to see them live and overcrowd any venue that confines them.
Any album beginning with a song simply called Intro is likely to be approached with suspicion and caution; it is evident Alt-J have not packed an album full of singles, instead it is an artistic piece intended to be played the whole way through in one sitting, from start to finish. But the 'Intro' is a song in its own right at 2:37 minutes long, beginning with a structured and drum-led instrumental that drops into an array of dubstep-style blasts and incomprehensible lyrics and ending with an epic crescendo of merging guitar rhythms. The result is a truly astounding introduction that sets the tone for the rest of An Awesome Wave.
Tessellate and Breezeblocks follow shortly, the album's two stand-out singles that have received common airplay on radio stations across the country. The former is filled with light keyboards and an almost psychedelic feel, the latter being Alt-J's most coherent and approachable piece, despite the occasionally disturbing ('She may contain the urge to run away but hold her down with soggy clothes and breezeblocks') and frequently perplexing ('Do you know where the wild things go, they go along to take your honey') lyrics.
Something Good, the latest single, is again filled with dark and depressing undertones which are packaged in a lively roll of drum beats and guitars. Dissolve Me is a euphonic explosion of synthesisers and Matilda, referencing the film Leon, is a repetitive mixture of instrumental guitar strums and crooning vocals. These three songs secure the centre of the album as its highlight, only broken by Ms which unfortunately, for all its originality, is too disconnected, slow and dull to be memorable.
Fitzpleasure takes time to grow on you, and after the first listen or two can just be irritating. However after a while, the returning (and occasionally deafening) blasts from Intro become soothing and you can't help but find yourself tapping your feet along with the chord progressions. A welcome return to the slow lane, Bloodflood ripples with keyboards and guitars, with different layers of music taking the stage at different points in the song before, with about 30 seconds left, the sound disappears, only to return instantaneously, mixing all the different layers of vocals, guitars and drums into one epic finale.
The album closes with Taro, a homage to war photojournalists Gerda Taro and her love interest Robert Capa who both died on the job. It is a fitting conclusion, and one that seems to mix all the instruments from throughout the rest of the album into a vibrant and animated climax, before subtly returning to a swaying violin finish.
There are flaws to An Awesome Wave, Ms and hidden track Hand-Made often finding themselves skipped when sifting through the album on my iPod. However the majority of Alt-J's debut piece is an exuberant celebration of music, a relentless journey through an outlandish collection of different stories, media references and depressing lyrics. But although the lyrics cannot be said to be the most inspiring, their dark and sinister meanings are countered by the joyous blend of instruments and styles. An Awesome Wave is as much an experiment as it is an album, but it is one that has caught the eye of the public and critics alike.