by
Ben Willcocks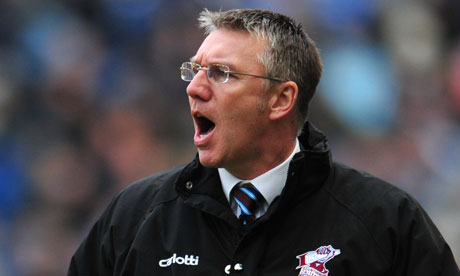 Nigel Adkins: new to the Premiership --- but for how long?
(source: Guardian)
As Aguero's last minute winner brought me almost to tears last year after an unforgettably competitive season, I was hoping for this Premier League season to follow suit. And so far so good. We're almost a third of the way through the season now and the table is starting to take shape quite nicely, with the inevitable Manchester City, Manchester United and Chelsea, who together spent almost double the amount of money on players this transfer season than all the other Premiership teams combined, battling it out for top spot. Again, despite a change in manager, there is another slow start at Anfield, with Liverpool poised in 13th, and QPR, who are without a win so far in the campaign, are once more in grave danger of not only in the relegation zone, but possibly rock bottom. This year Steve Clarke, Andre Villas-Boas, Chris Hughton, Michael Laudrup and Brendan Rodgers started the season with new sides with Nigel Adkins and Brian McDermott spending their first ever managerial spell in the Premiership.
Still despite QPR's horrific position in the table, Nigel Adkins is leading the sack race, with odds of 1/3. This is sadly the period of the season, during a muggy November, where certain Chairmen, such as Nicola Cortese, get a little frustrated with their managers. There are many possibilities to suggest why this Chairman is ready to say "You're fired!" - whether it's due to the lack of victories, the wastage of his (I'm sure) well-earned money, or even the new series of Alan Sugar's Young Apprentice coming back onto the television.
Nicola Cortese
(thisishampshire.net)
However, despite all this, I think managers need to be given more of an opportunity. It is clear that, like all managers, Adkins has made a few errors, such as spending, according to The Guardian, over £30 million in the summer on players that have little Premier League experience, which is ironic considering the home-grown players that used to play at the club (Gareth Bale and Nathan Dyer) have returned to St. Mary's and scored. Adkins has also proven to be a little unorthodox, bringing on a defender at the weekend, despite the Saints being in desperate need of a goal. However, it would certainly be difficult to claim that he is a bad manager, as he won successive promotions with the side, and arguably they wouldn't be where they are now without him.
If I were Nicola Cortese, I would certainly keep him at the club, because the speculation around his possible departure is only going to decrease the morale of the players and the staff. Adkins is also confident, stating that he has "a good relationship with the Chairman". He also has a good relationship with the Southampton fans, and whilst, as a true blue, I despise the club with every bone in my body, I also quite like the man, especially after he recited some poetry at a press conference recently after another depressing (or, for me, satisfying) defeat. One thing is for sure, if Southampton fails to beat QPR in their next fixture, questions will be asked of Adkins, and I would be surprised if he remained at St. Mary's.
There are some managers in the Premier League, however, who have done sterling work with their side this season. Praises must go to West Bromwich's manager, Steve Clarke, who took charge of the side in the summer. Not only has he matched the work set by current England manager, Roy Hodgson, but he now finds himself in fifth, with the slender possibility of competing for a UEFA Cup place later on in the year. Moreover, Clarke spent the least amount of money this transfer season, which shows that he is very effective at motivating players. Andre Villas Boas may be in some trouble if he fails to win the next few games, as the Tottenham board are expecting the club to qualify for next year's Champions League. I believe that this expectation is going to be extremely challenging, especially after the loss of creative duo, Luka Modric and Rafael Van der Vaart.