by Fergus Houghton-Connell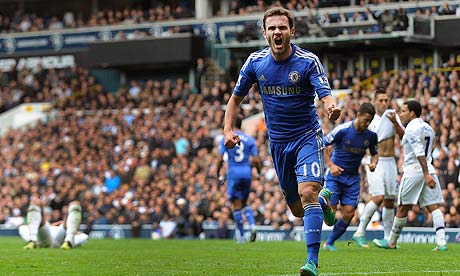 Juan Mata: incredible vision and passing
(source: Guardian)
Cracking weekend in the Premier League, which saw Liverpool and Norwich get their first home wins of the season, whilst North London took a battering, with Arsenal and Spurs both losing. So here are my best and worst teams of the week:
Best Team of the Week
Goalkeeper – Manchester City – Joe Hart – Hart made a fantastic save in the last minute to secure a win for City, especially after taking the blame for the England draw.
Left Back – Fulham – John Arne Riise – He only made one assist in the match, but it was enough for a win. He was sending in crosses for Berbatov all afternoon in what was a comfortable win for Fulham.
Centre Back – Norwich – Sebastien Bassong – He was in my worst team last week but, much like the rest of the Norwich team, he improved vastly to show off a below-par Arsenal side for their first win of the season.
Centre Back – Newcastle – Fabricio Coloccini – Alan Pardew's word after the match against Sunderland summed Colccini up: 'he was like Bobby Moore'. A quality performance that deserved a win, if it wasn't for that own goal.
Right Back – Manchester City – Micah Richards – He got in my best team last week and he is in it again. He managed to survive under the pressure of West Brom, especially in an intense last five minutes.
Left Midfield – Liverpool – Raheem Sterling – This kid has a hell of a future ahead of him, not only for Liverpool but for England too. His finishing was first class and managed to secure Liverpool their first home win of the season.
Centre Midfield – Chelsea – Juan Mata – He was at the heart of Chelsea against Spurs. He managed to get two goals and an assist, with his vision and passing being incredible at times.
Centre Midfield – Chelsea – Eden Hazard – Much like Juan Mata, he seemed to be able to pick out any pass he wanted. If Mata and Hazard continue this form, it'll take a superb performance to beat Chelsea.
Right Midfield – Norwich – Anthony Pilkington – Arsenal's defence was dreadful, but, even so, Pilkington tore down the right wing, setting up Holt time and time again.
Centre Forward – Manchester United – Wayne Rooney – He may have scored an own goal, but he made up for it enough, with two goals and one assist --- another cracking performance.
Centre Forward – Manchester City – Edin Dzeko – He may have said that he doesn't want to be called the 'super sub' in his post match interview, and, with performances like that, he won't be starting on the bench for too long. Two fine finishes from the Bosnian.
There were, however, this week, a few blunders, most notably from Arsenal. Here is my worst line-up:
Goalkeeper – Arsenal – Vito Mannone – Mannone had one of the easiest games this week, with Norwich only really testing him once. The problem was, he messed up the one time he was tested and it was enough for a Norwich win.
Left Back – Arsenal – Andre Santos – Much like the rest of the Arsenal defence, he had a rather awful match. He was found out of position so many times and was lucky that the Norwich defence wasn't clinical, otherwise Arsenal could have been in for a long match.
Centre Back – Southampton – Jose Fonte – Southampton now hold the record for conceding the most goals after the first eight games in the Premier League, at 24. Fonte is partly to blame for their dreadful defending, with awful positioning and an inability to tackle. Fonte and Southampton have to shape up.
Centre Back – Arsenal – Per Mertesacker – He was in my best team last week; unfortunately, this week he was rather dreadful. His pace let him down this week, allowing Grant Holt to slip in behind him and tap in the deciding goal, among other incidents.
Right Back – Tottenham – Kyle Walker – Walker was torn apart by Juan Mata on Saturday and was the main reason why the fourth goal went in, as well as allowing Mata to simply ghost into the penalty area unmarked to score the third goal for Chelsea.
Kyle Walker: torn apart
(source: london24.com)
Left Midfield – Sunderland – James McClean – He didn't have the performance he is capable of, much like the rest of the Sunderland side. It seemed ironic, then, that Sunderland's goal had to be left to Newcastle's Premier League top goal scorer, Demba Ba.
Centre Midfield – Tottenham – Clint Dempsey – Chelsea dominated the midfield, with Clint Dempsey being made ineffective. Dempsey needed to close down Mata, but instead he did barely anything.
Centre Midfield – Arsenal – Aaron Ramsey – Arsenal didn't have the usual panache in the midfield. Their passing wasn't bad, but it wasn't in any dangerous positions, with Ramsey not linking up with the strikers like he usually does.
Right Midfield – Manchester City – James Milner – He deservedly was sent off after a dreadful challenge on Shane Long. However, despite Milner not being there, Man City managed to win, which leads one to wonder whether Milner was needed in the first place.
Centre Forward – West Brom – Romelu Lukaku – If I'm honest, he was reasonably good, except for the vital essence strikers need: finishing. He had four decent chances, all in the last ten minutes of the match, and those misses cost West Brom at least a point.
Centre Forward – Arsenal – Olivier Giroud – It hurts me to put so many Arsenal players in the worst team this week, but Giroud thoroughly deserves his place here. Giroud didn't get into many real goal-scoring situations, but, when he did, he was hopeless in front of goal.