by Fergus Houghton-Connell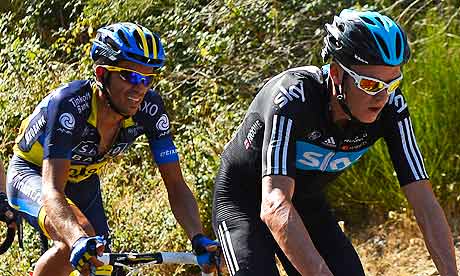 Chris Froome (front) with Alberto Contador
(source: Guardian)
After arguably the greatest summer in British cycling's history, from Bradley Wiggins' victory in the Tour de France, as the first Britain to win the gruelling event, to his gold medal in the Olympic time trial, not to mention the seven gold medals won in the Olympic Velodrome, it seemed like Chris Froome had a lot to live up to coming into this year's Vuelta a Espana, the third and final grand tour of the year.
With Froome entering La Vuelta as the pre-tour favourite, having come second in Le Tour de France (with some claiming he could have won it himself) and having won the bronze medal in the Olympic time trial, it seemed inconceivable that he couldn't win La Vuelta, let alone finish outside the podium positions. However, despite having been last year's runner-up in La Vuelta, his hopes were to be dashed by a trio of Spaniards, with Froome coming a meagre fourth overall, finishing 10 minutes and 16 seconds behind the eventual winner, Alberto Contador. Of course fourth is a fantastic achievement for many cyclists, but how did a man who was the subject of so much expectation and hope fail to live up to British cycling's now-impeccable record?
La Vuelta a Espana
was Alberto Contador's first race back from his disputable one-year drug ban. He was ready to release 12 months of training and anger on this year's Vuelta, and boy did it show. From the off, he demonstrated the same dance-like pedalling and seemingly limitless energy that had won him 3 Tours de France. Froome seemed helpless in the face of relentless attacks from the Spaniard, despite valiantly fighting back in the first few stages. However, by the end of La Vuelta, Contador was just one Spaniard too many for the Briton.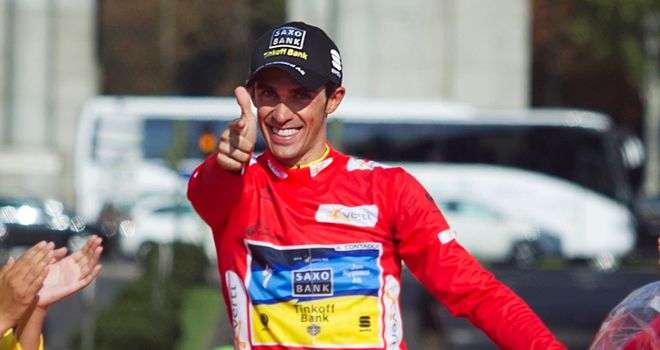 Alberto Contador celebrates his second Vuelta win
(source: Sky Sports)
Chris Froome had come into La Vuelta having arguably won Le Tour de France for Bradley Wiggins, so many people thought that he could just stroll to victory. However, human bodies don't work like that. A cyclist will peak for one or two events per year, which for Froome was undoubtedly Le Tour. Thus in Spain he had passed his peak and his form was in decline.
Finally, La Vuelta is a very different race to Le Tour de France. In the latter, the mountains are, on average, longer than those of the former, so they have a shallower gradient, normally 18% at the most, to compensate for these long distances. However, in the Spanish race, the gradient of the mountains can reach an astonishing 28%, forcing trained professionals to ride at a mere 5 miles per hour as a result of these steep conditions. It took the winner of Stage 16, Dario Cataldo, for example, over 5 minutes to climb the last kilometre of the Cuitu Negru Mountain. The Spanish had an advantage over Froome in that he prefers the long climb of the Alps to the conditions in Spain.
Overall, the British cyclist will have to wait a while longer for his first grand tour win, but, although he has suffered a minor glitch, his career as a cyclist is far from over. Whether he stays with Team Sky or not, he will most certainly be leading a team in next year's Tour de France. Many people believe that there is still much to come from Chris Froome.