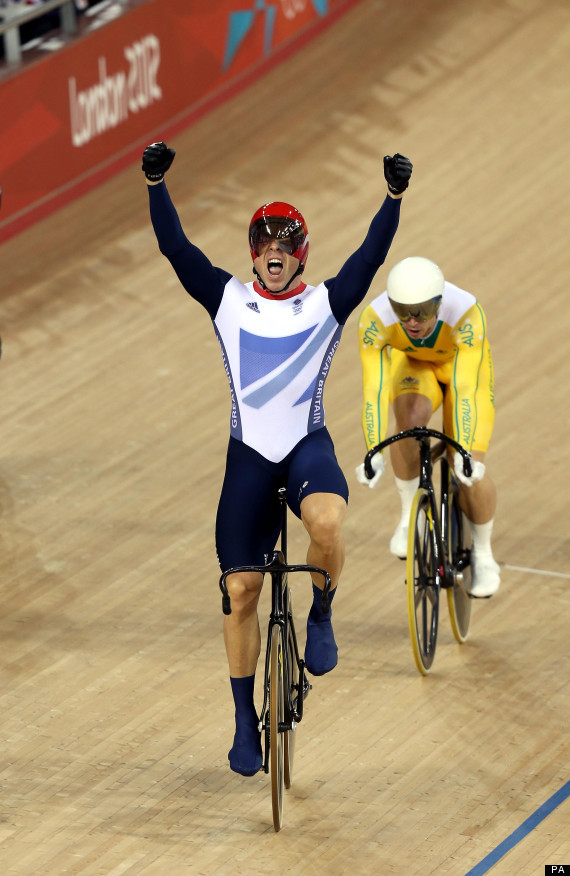 Chris Hoy wins his sixth Olympic gold medal
(source: huffingtonpost.com)
Update (12/08/12): By the final day of the Games, Team GB had attained a total of

29

gold medals,

17

silver medals and

19

bronze medals, totalling

65

medals and placing them third in the Medal Table behind only the USA and China. Gold medal winners in the last five days were: Jade Jones (Women's Taekwondo), Nicola Adams (Women's Flyweight Boxing), Charlotte Dujardin (Individual Dressage), Ed McKeever (Men's 200m Kayak Sprint), Mo Farah (Men's 5,000m), Luke Campbell (Men's Bantamweight Boxing) and Anthony Joshua (Men's Super-Heavyweight Boxing).
With a current total of 22 gold medals, 13 silver medals and 13 bronze medals, it is, as The Guardian
notes
, "the best British gold medal tally at any Olympics since London's White City Games in 1908, when deer

shooting

and the tug of war were among the medals on offer. To give a more telling perspective on a vertiginous achievement, as recently as the 1996 Atlanta Games, Britain won just a single gold – in

rowing

."
Read a selection of stories about Tuesday's British Olympic victories below:
"The sport's elder statesman drew on all his stubbornness for his greatest Olympic victory on a day when Team GB became the most successful since 1908. "The British historically got used to being the plucky losers — you know, 'we'll support our lads and lasses, but we don't expect them to win anything," he said. "You go to the World Cup in football and there are always tales of woe and penalty shoot-out defeats. It's like it is almost inevitable that the British are going to be beaten at some point. I think that's starting to change. There's a change in that culture of sport. We got fourth place in Beijing and that was way beyond our expectations. Yet we're lying third this time and everybody's enjoying it. You feed off that enthusiasm and that energy and the whole nation is proud of what we've achieved as a team."" Read about Chris Hoy's record-breaking medal win here.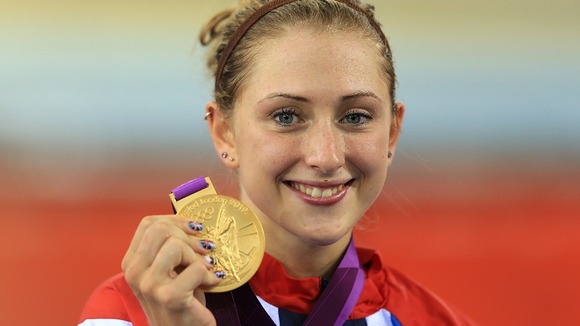 Laura Trott
(source: itv.com)
""Once I got that winning feeling that was it, I really didn't want to not win," she said, referring to her early days as an eight-year-old cycling around the outdoor velodrome in Welwyn Garden City in all weathers. After being born with a collapsed lung, spending a long time in intensive care as a baby and being diagnosed with asthma, she was told by doctors to take up sport to strengthen her immune system. She hated it --- at least initially." Read
more
about how Laura Trott won her gold medal in the omnium.
The Brownlee brothers, Alistair and Jonny,
after winning gold and bronze respectively
(source: Daily Telegraph)
"Earlier this year his participation in the London Games looked in doubt when he tore his achilles tendon and he only ran one major race this year before the Olympics. The Brownlees' coach, Malcolm Brown, said Alistair was "tough as teak" to win gold after not being able to run for the first four months of the year.
"Today he has outrun the best in the world," he said."
Read about how the Brownlee brothers won gold and bronze in the triathlon
here.
With five golds, two silvers and three bronzes, the Brownlees' native Yorkshire, if it was a separate nation, would be beating Australia and Japan in the Olympics medals table. See more details
here.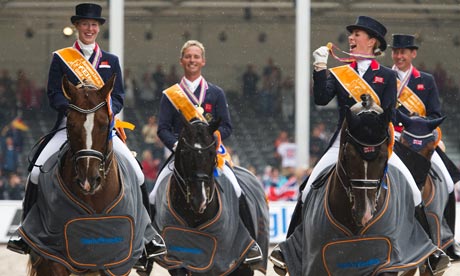 Laura Bechtolsheimer, Carl Hester and
Charlotte Dujardin
(source: The Guardian)
"The British dressage community is usually a particularly restrained group, but those sitting in the stands at Greenwich On Tuesday chanted "GB, GB, GB" as vigorously as any crowd at these Games. That was because they had witnessed another epoch-making day for equestrianism in this country, as the dressage trio broke Germany's stranglehold of the sport by winning Britain's first Olympic medal of any colour since the first appearance of the event in the 1912 Games." Read more about how Charlotte Dujardin, Carl Hester and Laura Bechtolsheimer won Olympic gold for dressage.
See image of Mo Farah and Usain Bolt here.