by
George Kimber-Sweatman
Jakub Blaszczykowski celebrates scoring against Russia
(thehindu.com)
The European Championships of this summer turned out to be arguably the best major footballing tournament since the World Cup in Germany in 2006, despite some initial scepticism about European governing body UEFA's choice of host nations in Poland and the Ukraine. The hospitality from the Poles and Ukrainians towards their visitors was fantastic, the stadiums were superb and, most importantly, the quality of the football, teams and players on display was outstanding. Fans that were enjoying the opportunity to watch high quality football without the stresses of supporting their club team will certainly be very sad that this 31-game feast of football has come to an end.
Despite a BBC Panorama documentary in the week immediately preceding the opening of the tournament, which uncovered shocking examples of sustained and violent racism at football matches in both Poland and the Ukraine, the 23-day event seemed to pass without major unrest and with most reports stating how welcoming and friendly the natives had been in the host cities. The only reports of significant violence came during confrontations before the Group A clash between Poland and Russia, which unfortunately fell on the anniversary of the fall of the Soviet Union and, as such, the Russian supporters elected to arrange a march through the Polish capital of Warsaw, which regrettably invited violence from the Polish nationals. Yet, aside from that, UEFA were only left to give out a small number of nominal fines to national governing bodies whose fans had committed minor offences. The pre-tournament fears of terrible racism were thankfully proven to be unjustified and the people of the host cities were not only tolerant of their visitors, but extremely welcoming towards them.
Andy Carroll scores against Sweden
(theoriginalwinger.com)
The group stages produced only a few surprises in terms of team progression, as most countries expected to qualify for the knockout stages did so. Despite providing some fantastic entertainment, Poland and Russia were eliminated from Group A, as Greece and the Czech Republic progressed, while, in the "Group of Death", Germany progressed with a 100% record alongside Portugal, as Denmark were sent home after a creditable performance – in stark contrast to 2010 World Cup finalists Holland, who lost each of their 3 games, even with potentially match-winning players in every position.

In Group C, there was no shock as Spain and Italy progressed comfortably ahead of the competitive Croatians and the not-so-competitive Republic of Ireland, who conceded 9 goals and scored just 1 in their three disappointing losses. Finally, England--remarkably-- won Group D, regardless of the extremely-low pre-tournament expectations and France qualified in second, only a single point ahead of co-hosts Ukraine and Sweden.
Andres Iniesta
(zimbio.com)
The quarter-finals were of a similar ilk, as Portugal, Germany, Spain and Italy progressed at the expense of the Czech Republic, Greece, France and England as expected. The semi-finals, however, were intriguingly close-fought as Spain required penalties to defeat a dogged Portugal side and favourites Germany were deservedly beaten by two Mario Balotelli goals for Italy. Spain then went on to clinch their third successive major tournament triumph with a 4-0 demolition of Italy in Kiev.
However, it was not just the teams on show with their respective disappointments and successes that made this an enjoyable tournament, but the quality and entertainment provided for the viewing millions. There was something for everyone as teams such as England and Denmark defended for their lives, with little thought of adopting a more technical style of play – in stark contrast to countries like Spain and Italy, who did everything in their power to keep possession of the football. There was at least one goal in every game of the group stages and the only two 0-0 draws came in the quarter-finals, but were decided by the drama of a penalty shootout and were anything but boring.
Zlatan Ibrahimovic's scissor kick against France
(uk.eurosport.yahoo.com)
Unlike in previous tournaments, there were some spectacular goals - perhaps due to the higher quality balls used this time in contrast to the lighter ones used in the past, such as the controversial Jabulani ball used in the South African World Cup of 2010. Again, there was something for everyone - if long-range screamers are your preference, then Jakub Blaszczykowski's goal for Poland against Russia, if you are someone who prefers good old-fashioned centre forward headed goals, then Andy Carroll's goal against Sweden is for you and if you prefer more technically accomplished goals, then Zlatan Ibrahimovic's scissor kick for Sweden against France and Jordi Alba's slide-rule finish in the final will be your cup of tea. The range of goals was fantastic and their execution sublime – fantastic to watch and certainly adding to the overall quality and impression of the event.
As for the individual players, the same old faces impressed as always, some of the more famous were disappointing and some added an extra few million to their price tags with impressive performances to put themselves in the thoughts of bigger clubs during the summer transfer window. Here is my team of the tournament:
Joe Hart
(cbc.ca)
Goalkeeper: Joe Hart (England) – Hart put in positive performances throughout his 4 games and certainly had a lot of saves to make as England's defence forced the opposition into long-range efforts which he dealt with comfortably despite some challenging ball swerves.
Left Back: Fabio Coentrao (Portugal) – Coentrao's attacking prowess mean that he could almost be considered as a left winger rather than a more defensively-minded left back. The Real Madrid man was involved in most of Portugal's attacking play and even provided an assist.
Centre Back: Sergio Ramos (Spain) – Ramos was as solid as ever defensively and was a key component in beginning Spain's possession game through his calm on the ball and eye for the right pass at the right time.
Centre Back: Olof Mellberg (Sweden) – Although part of a defence which conceded 5 goals in 3 games, Mellberg was dependable and even popped up with 2 goals against England.
Philipp Lahm
(oleole.com)
Right Back: Philipp Lahm (Germany) – German captain Lahm was fantastic as usual, leading his side with ease, scoring against Greece in the quarter-finals and providing 322 accurate passes for his team mates.
Left Midfield: Andres Iniesta (Spain) – Officially named as UEFA's Player of the Tournament, Iniesta again proved that he is a world-class player. He provided 350 completed passes, one assist and was at the centre of Spain's dominance of possession with his constant probing.
Centre Midfield: Andrea Pirlo (Italy) – Pirlo was peerless during the tournament, scoring a trademark free kick and providing a remarkable 411 passes and 8 successful crosses. He controlled games from his deep-lying position and hardly put a foot wrong. Unbelievable.
Centre Midfield: Steven Gerrard (England) – Gerrard led England with passion and tireless energy. He was joint-top of the assists table with 3 goals laid on for colleagues and worked extremely hard to deliver fantastic defensive cover in front of the back four.
Right Midfield: Alan Dzagoev (Russia) – Not many people had heard of Dzagoev at the outset but his energetic performances and 3 goals from midfield ensured that he will be watched with some interest by fans and potential suitors alike in the immediate future.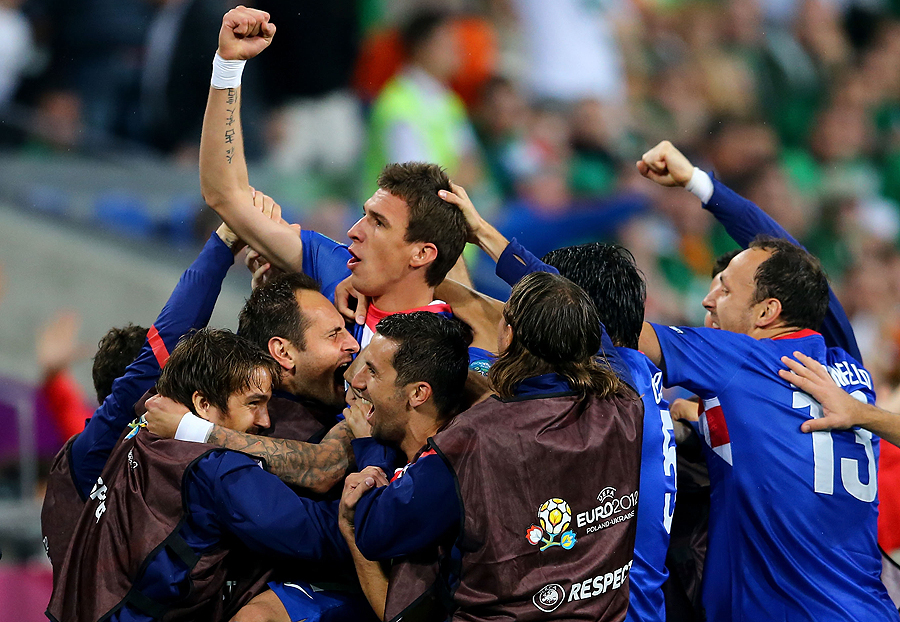 Mario Mandzukic celebrates
(espnfc.com)
Striker: Mario Mandzukic (Croatia) – Similar to Dzagoev, Mandzukic was not one considered as a major threat going into the tournament, but emerged as joint top scorer with 3 goals in a struggling Croatian side. He was a constant threat and will surely be an even greater success next time around.
Striker: Cristiano Ronaldo (Portugal) – Ronaldo finally showed his true ability in a major international tournament despite a slow start. He finished as joint top scorer with 3 goals and providing much of his team's attacking threat.
Honourable mentions go to Manuel Neuer, Mesut Ozil (Germany), Ignazio Abate (Italy), Mathieu Debuchy (France), Xavi (Spain), Joao Moutinho (Portugal) and Zlatan Ibrahimovic (Sweden).
Overall though, Euro 2012 was a delight to watch and provided great entertainment for the whole of its 23- day duration. UEFA's decision to choose Poland and the Ukraine as co-hosts was vindicated as a successful tournament was played out with little hint of unruly behaviour. The match officials were hardly mentioned (always a good thing!) and the football on display was first class. Now for football fans, the new Premier League and Football League seasons kick off at the start of August but they will do very well to match the European Championships of 2012 for entertainment and quality. It will certainly be fun to find out how close they can get – only this time with even more passion from the loyal supporters for their beloved clubs.
Peerless Pirlo
(1.bp.blogspot.com)