by Mary Mitchell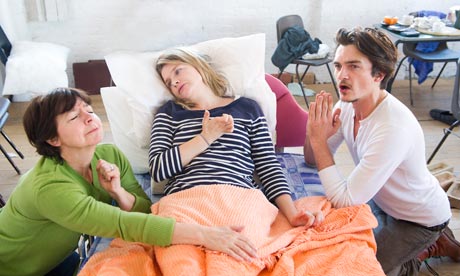 image source: static.guim.co.uk
Three cheers for the Arcola Theatre/SEArED revival of the controversial 1976 Dennis Potter television play Brimstone and Treacle.

Out of fashion and favour for so long, Potter deserves to be resurrected from the hellish archives of the BBC and to assume his rightful place as the master of the deliciously insightful.
Written as part of an informal trilogy, Brimstone and Treacle challenges aspects of spirituality, belief, duality, morality, deceit, suburban paranoia, xenophobia, innocence and symbolic representation. Alasdair Milne, then Director of TV Programmes at the BBC, 'pulled' the play on the grounds that he found it 'nauseating'.

It was finally aired on TV in 1987, by which time Thatcherism was firmly entrenched, Michael Grade had replaced Alasdair Milne, Dennis Potter had become a writer of 'complex intelligence and vivacious imagination', and, as Ludovic Kennedy stated in 'Did You See', 'time has moved the goal posts'.

The political landscape and social structure of Britain has changed immensely in the years since Potter created his masterpiece, and thus it was with great anticipation and glee I found myself wending my way, via train, boat and plane, to this out-of the-way eco-theatre in the wilds of Hackney.
source: thisislondon.co.uk
Potter's visitation drama is set in North London, Summer 1977:
As a nation prepares to celebrate Queen Elizabeth's Silver Jubilee, a middle-class, middle-aged and small-minded couple struggle to come to terms with the incapacitation of their beloved daughter Pattie, following a hit-and-run car accident. Out of nowhere, an apparently respectable young man arrives on their doorstep to change their lives forever.
From the moment Martin Taylor enters the house we, the audience, know he is not what he pretends to be. His claim to be Pattie's fiancé is quickly undermined by his furtive and sneering glances at the audience. This stranger in the Bates' household creates an air of mystery and fear. Before long he controls all events, and whilst he represents dark forces he clearly is a force for change too. Martin's role as the Devil's Advocate allows him to reveal the bigotries and ideals held by Pattie's parents. The sinister and powerful Martin brings the play to a dramatic and unexpected ending which leaves the audience stunned.
Whilst there are some who may believe that Dennis Potter is a playwright from the past, and that is where he should stay, I would argue the exact opposite. One theatre critic wrote '…it's hard to imagine a more relevant play for today'. I couldn't agree more. More Potter revivals please as his work is truly masterful.