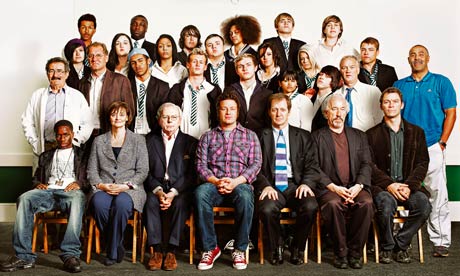 by Zoe Dukoff-Gordon
Jamie Oliver started up his Dream School in 2011 to try to help a group of twenty young people, from the age of 16 to 18, who left school having no GCSE's from grade A* to C. What inspired Oliver to start up his school was the fact that he was in this category when he was at school.
In his research, Oliver found out that 50% of GCSE students today do not get the 5 GCSE's from A* to C they need to carry on to college, therefore the children in his dream school are not in the minority, but are actually the norm in our society.
The programme includes Oliver's ideas of how children of today ought to be taught: whether they need clever teachers that can teach but can be impatient with the pupils, yet know what they are talking about, or famous celebrities that inspire the people of today and engage their audience in what they are talking about and are passionate about.
The teachers include:
Professor Robert Winston Science
Alastair Campbell Politics
These teachers were given the opportunity to teach whatever they wanted, however they wanted, which included dissecting, debating and attempting to learn Shakespeare. It was reported by the children that the school did improve their lives, as they all believed that the teachers let them down at their original schools and that having inspirational teachers who interested them had had a better effect.
I would really encourage you to watch the programme as it shows the public that less educated people do not lack intelligence- they have brilliant ideas and are capable of going on in life with satisfying jobs. It is just that they did not have the opportunity in the first place.